Recipes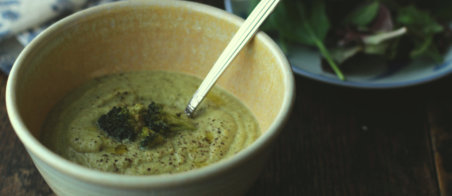 Roasted Broccoli Soup
I'm going to let you in on a little secret: I don't love broccoli. Which may surprise you, since I'm a health coach and all. And because broccoli is one of the healthiest foods around.
To clarify, I eat broccoli. But it has to be cooked just right. I mean, I'm not the kind of girl who digs into a serving of steamed broccoli. And raw? Umm, no thank you!
Even though I'm picky about broccoli, I recognize that it's a really important vegetable to incorporate into my weekly meal plan. For starters, broccoli is packed with antioxidants that help reduce cancer risk and inflammation. Broccoli's fiber is great for your digestive system, it contains special nutrients for eye health — and it even has some healthy omega 3 fatty acids. In short, broccoli's too much of a rockstar to omit it from my diet. And yours.
After being raised on boiled and mushy broccoli, it took me awhile to figure out that broccoli can actually taste good. These days, my favorite ways to enjoy broccoli are in a stir-fry with other veggies and a yummy sauce, grilled — and in this Roasted Broccoli Soup.
For years, I made this soup without roasting the broccoli first — and it tasted delicious. However, if you have time to roast the broccoli ahead of time, it's well worth it. Roasting the broccoli really bumps up the flavor, giving it a nice nutty quality.
After doing some prep work on the weekend — rinsing the broccoli, separating the crowns into florets, chopping the stalks and roasting the broccoli — this soup can come together very quickly on a busy weeknight, especially if you use pre-chopped onions or chop your own on the weekend. That's the beauty of meal prepping your ingredients on Sunday — you could have this soup on the table in about 20 minutes.
If you try the recipe or have any questions, please connect with me over on Instagram. I'd love to hear from you!
Ingredients
2 tablespoons avocado oil, separated
1 cup chopped onion (1 small onion)
2 cloves garlic, minced
1 stalk celery, chopped
2 large stalks of broccoli, stems and florets separated
4 cups of low sodium vegetable stock
1/4 cup raw cashews
1 tablespoon tahini
1 tablespoon nutritional yeast (use 2 TB for a "cheesier" flavor)
1 tablespoon fresh lemon juice
sea salt and ground pepper to taste
Directions
Step 1

Preheat oven to 425 F. Separate broccoli crowns into evenly sized florets. Chop the stalks and set aside.

Toss the florets with a tablespoon of avocado oil and season with sea salt and pepper. Transfer to a baking sheet lined with parchment paper. Roast for 15-20 minutes, until the edges of the florets start to brown. Set aside.

Step 2

Heat remaining tablespoon avocado oil in a pot over medium high heat. Add the chopped onion and sauté until softened and translucent — about 5-10 minutes.

Step 3

Add the garlic and stir, continuing to sauté for another minute. Add the chopped broccoli stalks and celery, and continue cooking until the vegetables start to soften, about 5-10 minutes.

Step 4

Add the vegetable broth, cashews, tahini and roasted broccoli florets. Give everything a stir, and bring the mixture up to a boil. Then reduce heat to a simmer and cook until the broccoli is soft. Let the soup cool off a bit before blending.

Step 5

Working in batches, transfer soup to a blender and puree until smooth. In one of the batches, add the nutritional yeast and lemon juice, and blend.

Return the blended soup to the pot and season with salt and pepper to taste. Gently reheat if needed. Garnish with chopped dill, if desired.
Notes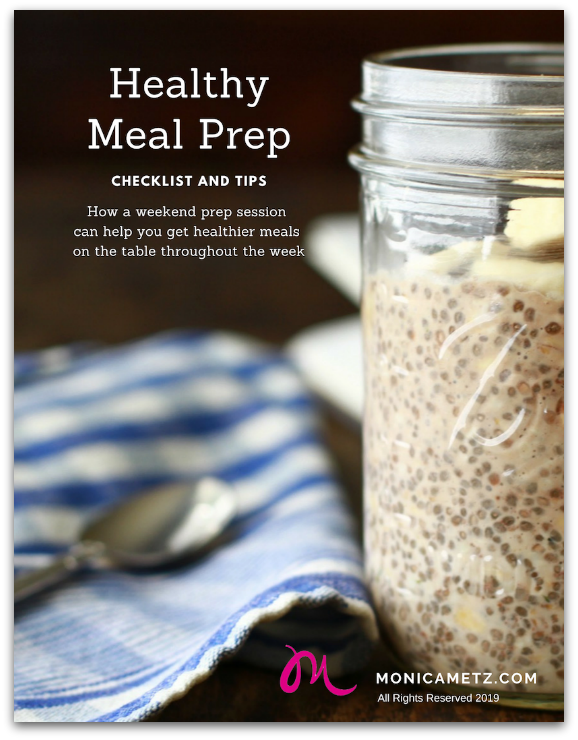 Need some extra help with healthy meal planning? Check out my fun freebie, the Healthy Meal Prep Guide.
This free PDF is downloadable/printable and includes:
✔️ Shopping and meal prep strategies.
✔️ A blank meal planning template.
✔️ Sample meal plans.
✔️ Downloadable and printable shopping list.
✔️ Weekend prep session checklist.
Ready to download the guide? Great!