Recipes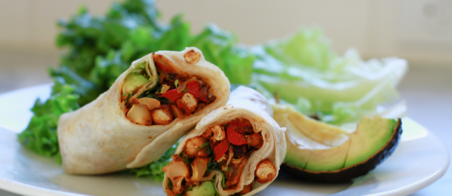 Roasted Cauliflower and Chickpea Wraps
Are you ready for a clean-out-the-fridge meal that actually tastes good… and has become one of my family's favorites?
Then check out these Roasted Cauliflower and Chickpea Wraps.
I love this recipe because you could use any variety of veggies you have on hand. I love using cauliflower, but you could also use broccoli — both of these vegetables are high in cancer fighting antioxidants and vitamin C, by the way.
The key is to chop up the veggies so that they're about the same size as the chickpeas. That will help everything roast evenly.
Speaking of chickpeas — here's what I love about them. They're high in fiber, so they're great for gut health. And, they're also a good source of plant based protein.
Hope you enjoy this recipe. It's on our regular rotation these days!
Ingredients
1 large yellow onion
1 medium red bell pepper, seeded
1 large head of cauliflower
3 cups cooked chickpeas (from scratch or from two 15-ounce cans), rinsed and drained
3 tablespoons olive oil
1 to 2 tablespoons low-sodium soy sauce
1 tablespoon chili powder
2 tablespoons nutritional yeast
2 teaspoons ground cumin
2 teaspoons smoked paprika
1 teaspoon turmeric
1 teaspoon granulated garlic
1/2 teaspoon ground coriander (bonus points for toasting and grinding your own coriander seeds. You'll get a lot more flavor that way!)
A big pinch of red pepper flakes
A pinch of sea salt
Freshly cracked pepper
4 cloves garlic, minced
6-8 burrito-size flour tortillas or lettuce leaves
1 lime
GARNISH: fresh salad greens, chopped avocado, cilantro, salsa, hot sauce
Directions
Step 1

Preheat the oven to 425 degrees. Prep two baking sheets by lining with parchment paper.

Chop the onion, red bell pepper and cauliflower into chickpea-size pieces. Add to a large mixing bowl.

Step 2

To the bowl, add the drained chickpeas, followed by the oil, soy sauce, chili powder, nutritional yeast, cumin, smoked paprika, garlic, coriander and red pepper flakes. Toss gently to incorporate, then season with salt and black pepper, to preference.

Step 3

Spread the mixture evenly on the baking sheet, in one layer. Space out the veggies so that they'll roast evenly.

Roast for 20 minutes, then stir in the garlic.

Step 4

Return to the oven and roast for another 15 minutes.

With about 5 minutes of oven time left, wrap the stack of 6 to 8 tortillas in aluminum foil and place them in the oven to warm. Or, set up your lettuce leaves on a plate for serving.

Remove trays from the oven and squeeze the juice from one half of the lime evenly over the roasted vegetables. Taste, and adjust the seasoning as needed.

Step 5

Divide the vegetable mixture evenly among the tortillas, spooning a pile at the center of each tortilla or lettuce leaf. Add your garnishes of choice and wrap up into a burrito, tucking in the ends as you go along.

Serve right away, with wedges of the remaining lime half and hot sauce of choice.
Notes
Do you need more support around healthy meal prep, nutrition tips and recipes?
Click here to join the waitlist for More Veggies Less Meat, my online membership.