Recipes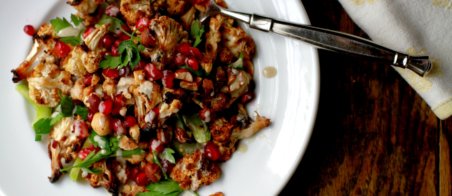 Roasted Cauliflower Salad with Pomegranate and Hazelnuts
This salad is for anyone who thinks they don't like cauliflower.
Cauliflower develops a delicious savory-sweet flavor when roasted. I also love how roasted cauliflower is slightly charred and crispy on the outside, and creamy on the inside.
The pomegranate seeds add a fun element of crunch and sweetness, while the chopped hazelnuts provide an earthy complement, and a serving of healthy fat.
This recipe was inspired by this recipe from the Boston Globe. 
Ingredients
1 large head cauliflower, separated into florets
2-3 tablespoons of avocado oil (my preferred oil for roasting)
Salt and pepper, to taste
¼ cup tahini
2 cloves garlic, pressed or finely minced
⅓ cup finely chopped fresh parsley
1 tablespoon pomegranate molasses
Juice of 1 lemon
3 tablespoons cold water, or more to taste
1 stalk celery, thinly sliced
1/4 cup hazelnuts, roasted in a 325 degree oven for 15-17 minutes
½ cup pomegranate seeds
Directions
Step 1

Set the oven at 450 degrees. Line a large baking sheet with parchment paper.

Step 2

In a bowl, toss the cauliflower florets with avocado oil, salt, and pepper. Spread cauliflower in an even layer on the baking sheet. Roast for 30 minutes, stirring occasionally, or until cauliflower is golden brown (or even a bit charred) and crispy, and the inside is tender. Transfer to a bowl; set aside to cool.

Step 3

While the cauliflower is roasting, prepare the dressing. Into a small bowl, combine tahini, pomegranate molasses, salt, pepper, garlic, half the parsley, and half the lemon juice. Whisk the mixture until it becomes stiff and grainy. Add the water, and continue whisking until the sauce turns pale and creamy. Taste for seasoning and add more salt and pepper to taste.

Step 4

Add the sliced celery to the cooled cauliflower. Drizzle the tahini dressing over the vegetables. Add the remaining lemon juice. Sprinkle with pomegranate seeds, hazelnuts, and the remaining parsley. Serve and enjoy.
Notes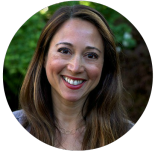 Remember to tag me on Instagram if you try the recipe.