Recipes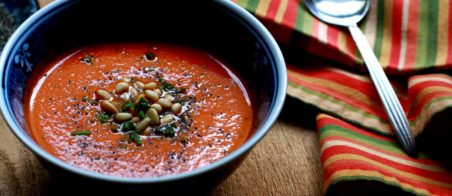 Roasted Red Pepper Coconut Soup
Vitamin C — we talk about it all the time during cold-and-flu season. It can't actually prevent a cold from happening, but it has been shown to help lessen the duration. And that's always a good thing.
In addition, vitamin C is one of the most important antioxidants around. Our bodies need it for the ongoing growth and repair of bones, skin, blood vessels, and other tissues around the body. In addition, many studies show that eating foods rich in C can reduce the risk of developing cancer, particularly cancers that strike the mouth and digestive tract.
A healthy brain also relies on adequate levels of vitamin C. We need it to produce certain neural transmitters, as well as serotonin — the hormone associated with mood, and a sense of well-being and happiness. Um, sorta important right?
Vitamin C can also help boost the absorption of iron. This has been shown to be especially helpful for vegans and vegetarians concerned about getting enough iron into their diet. For example, for a powerful iron-vitamin C combo, you could make a big salad including garbanzo beans (iron), a lemon juice based dressing (vitamin C), and some chopped red bell peppers (vitamin C).
Since our bodies can't make vitamin C, we need to make sure we're consuming it daily.
Oranges are, of course, the classic go-to for vitamin C, but did you know that some foods are actually higher in vitamin C? This would include fruits such as papaya and kiwifruit, and vegetables such as broccoli, kale, and red, yellow, and orange bell peppers.
So how about getting your vitamin C on with a gorgeous red pepper soup? This recipe is extremely simple, and it makes a great pantry meal if you have some roasted red peppers on hand. Serve it alongside some iron-rich foods such as beans or dark leafy greens, and you'll be boosting your iron absorption at the same time. Win-win!
This recipe is a staple on my food-based cleanses and healthy lifestyle programs. It's savory, velvety, and deeply satisfying on a cold, rainy night.
Ingredients
1 tablespoon each of coconut oil and ghee, or 2 tablespoons of extra virgin olive oil
2 cups chopped yellow onion
2 cloves garlic, thinly sliced
1/4 teaspoon ground cumin
1/4 teaspoon red pepper flakes
2 cups crushed tomatoes, no salt
(2) 13-ounce jars of roasted red peppers — rinsed, drained and chopped
1/4 cup unsweetened pumpkin puree (use the rest in a couple of smoothies)
1 can organic coconut milk
2 cups filtered water
1 teaspoon coconut aminos or tamari
1 tablespoon balsamic vinegar
sea salt and ground pepper to taste
Options for garnish: toasted pine nuts or pumpkin seeds; chopped mint, cilantro or chives.
Directions
Step 1

Set a large pot on medium heat and warm the oil (or ghee). Add the onions, and sauté, stirring occasionally, until they start to brown — about 15 minutes.

Step 2

Add the garlic, cumin, and red pepper flakes, and stir for about a minute.

Step 3

Add the tomatoes, roasted red peppers, pumpkin puree, coconut milk, water, and coconut aminos. Stir and simmer for about five minutes.

Step 4

Working in batches, pour the soup into a blender. Remover the lid center, and cover the lid with a towel (hot liquid tends to erupt) — blend on high. Puree until smooth.

Step 5

Return the soup to the pot and warm gently until hot. Stir in the balsamic vinegar. Add garnish of choice and serve.