Recipes
Shamrock Shake 2.0
McDonald's was a magical place to me when I was a kid. Probably because we rarely went there. Much to my chagrin at the time, my parents were in the throes of a serious health kick. Wheat germ, cod liver oil, carob, lecithin. All the goods. Their commitment to health food made trips to McDonald's a rare and wondrous event.
In the eyes of my third grade self, nothing could be more magical than eating at McDonald's during Shamrock Shake season. Maybe this was because I was born in South Bend, Indiana — home of the fighting Irish. Also, I have Irish heritage.
Or maybe I was simply tapping into an early penchant for creamy green elixirs — one that would lead to green smoothies years later.
Well I still love St. Patrick's Day, even though I no longer celebrate at McDonald's. Nor do I celebrate, as I did in college, by double-fisting green beers until last call.
Alas, I've found a healthier way to enjoy St. Patrick's Day. And guess what? It involves minty goodness, of course. Aaaand… dark chocolate. It's a new spin on my once beloved Shamrock Shake.
This St. Patrick's Day, I hope you hoist one of these special chocolate chip-minty smoothies for an energized and nourishing start to your day.
May the luck of the Irish be with you!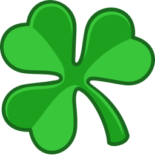 Ingredients
1 1/2 cups of canned coconut milk (i.e., from the Asian foods section at the grocery store)
1/2 cup filtered water
1/4 avocado, chopped
A few handfuls of baby spinach. Or about 3/4 cup of frozen spinach.
1 tablespoon coconut butter (sometimes called coconut manna). This is the whole food, as opposed to just the oil. If you don't have it, though, you can certainly omit.
2 medjool dates *** remove the pits
2 drops EDIBLE peppermint essential oil (i.e. DOterra) - OR 1/4 teaspoon peppermint extract
1 frozen banana, in chunks
2 tablespoons of cacao nibs. For a sweeter version, you could use semi-sweet chocolate chips. Enjoy Life brand is dairy, soy and nut-free.
Optional — 1/2 teaspoon of wheatgrass powder (i.e., Navitas Naturals brand)
For garnish — mint leaves and some chopped dark chocolate
Directions
Step 1

Place ingredients into blender — EXCEPT for the cacao nibs (or chocolate chips), adding frozen fruit and ice last.

Step 2

Process until creamy and smooth. Add water a quarter-cup at a time if you want a thinner consistency.

Step 3

Now, add the cacao nibs (or chocolate chips). Pulse the mixture (or blend briefly) until incorporated. Don't overblend — you still want to see flecks of chocolate throughout the smoothie.

Garnish with mint leaves and some chopped dark chocolate, if desired. Serve immediately or store some in fridge for later. Salud!