Recipes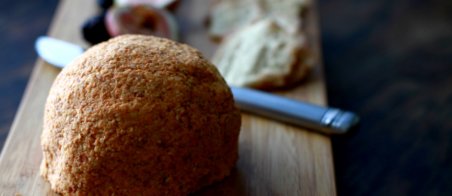 Smoked Almond Cheddar
This recipe is adapted from one of my favorite new cookbooks, This Cheese is Nuts by Julie Piatt — this book is a fantastic resource for anyone trying to eat dairy-free.
This is a really simple recipe, but you do need to soak the almonds ahead of time. This helps develop the proper consistency for the cheese, as well as improve digestibility.
Equipment: you'll need a food processor for this recipe.
Serves 6-8. Plenty for a potluck offering or dinner party appetizer.
Ingredients
2 cups raw unsalted almonds, soaked in filtered water overnight
1/2 to 3/4 cup pimientos from a jar, plus 1/2 to 3/4c of the packing liquid
1/4 cup nutritional yeast
1 teaspoon sea salt (or Himalayan pink salt)
1 teaspoon garlic powder
1/4 teaspoon liquid smoke
additional sea salt and pepper, to taste
Directions
Step 1

Prep ahead: place the almonds in a bowl and soak in filtered water overnight. Cover and refrigerate.

Step 2

Drain the almonds and place in the bowl of a food processor. Add the pimientos, nutritional yeast, salt, garlic powder, and the liquid from the pimientos.

Step 3

Pulse until the mixture is incorporated, and it starts to form a ball.

Step 4

Taste and adjust for seasonings.

Step 5

Scrape the mixture onto a cutting board and form into a ball with clean hands. Chill in the refrigerator before serving.

Step 6

Serve with crackers and fresh fruit such as grapes or figs.