Recipes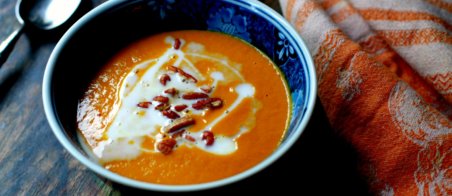 Smoky Sweet Potato Bisque
I love soup anytime of the year, and especially in the sweater weather months. This Smoky Sweet Potato Bisque is silky, smooth, and delicious — with a little kick from the smoked paprika.
Sweet potatoes are rich in beta-carotene, which the body uses to make vitamin A. Translation: healthy eyes and skin. They're also high in vitamin C, as well as manganese, which is important for healthy bones and connective tissue.
One more reason to love this soup: it's quick. I use pure canned sweet potato (no sugar added), which means you don't have to spend time peeling, chopping, and boiling the potatoes. This is a great soup to make for Sunday night dinner, because then you can enjoy the leftovers for Monday's lunch.
Pro tip: make a double batch, and freeze half to enjoy on a busy weeknight when you don't feel like cooking. You can either pour the soup into a gallon-sized ziploc bag, and freeze flat for easy storage. Or, pour the soup into a wide-mouthed mason jar, leaving some room at the top for the liquid to expand. Pop on a lid and you're all set. The frozen soup should keep in the freezer for about a month.
Ingredients
1 tablespoon of avocado oil
1 large onion, peeled and diced
2 cloves garlic, peeled and minced
1 tablespoon freshly grated ginger
1/2 teaspoon smoked paprika
1 teaspoon turmeric
½ teaspoon ground nutmeg
1 teaspoon ground cinnamon
(2) 15-ounce cans of unsweetened sweet potato puree (you can also use pure pumpkin puree)
2 cups reduced sodium vegetable broth
Zest from one orange
1½ cups unsweetened coconut milk
Salt and freshly ground black pepper to taste
To garnish: toasted pecans or pumpkin seeds.
Directions
Step 1

Heat the oil in a soup pot over medium heat. Add the onion, and sauté over medium heat for about 10 minutes, stirring occasionally. If the onion starts sticking, add 1-2 tablespoons of water and stir. Cook the onions until translucent and starting to brown.

Step 2

Add the garlic, ginger, paprika, turmeric, nutmeg, and cinnamon and cook for 1 minute. Stir so that the onions are coated with the spices.

Step 3

Add the sweet potato puree, vegetable stock, and orange zest. Bring to a boil over high heat.

Step 4

Reduce heat to a low simmer for about 15-20 minutes, stirring occasionally.

Step 5

Let the soup cool for a few minutes. Then, puree the soup using an immersion blender, or in batches in a blender with a tight fitting lid (remove the center piece and cover with a towel so steam can escape).

Return the soup to the pot and add the coconut milk. Heat gently over low heat until heated through. Season with salt and pepper. Garnish with toasted pecans and serve.