Recipes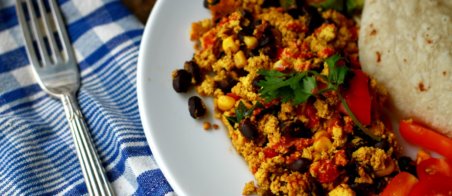 Southwestern Breakfast Scramble
This recipe takes the egg out of the scramble, without sacrificing on taste or protein. It's full of southwestern flavor thanks to the combination of chili powder, cumin, oregano, chopped red pepper, and black beans.
This Southwestern Breakfast Scramble is perfect for anyone who has an egg sensitivity or high cholesterol. In other words, if eggs benedict leaves your tummy feeling all a-gurgly, then this is your dish!
Ingredients
2 14-ounce blocks extra-firm tofu
2 tablespoons avocado oil
1 small onion, chopped
1 small red bell pepper, finely chopped
2 cloves garlic, minced or pressed
2 leaves of lacinato or dino kale, de-stemmed and sliced into ribbons
1 teaspoon chili powder
1/2 teaspoon ground cumin
a big pinch of smoked paprika
1/2 teaspoon oregano
A big pinch of ground pepper
1 1/2 teaspoons ground turmeric
1 15-ounce can black beans, rinsed, drained
1/4 cup coarsely chopped fresh cilantro
4-6 gluten-free tortillas, warmed
Garnishes: salsa, chopped avocado, plant-based cheese, sliced scallions, and hot pepper sauce (optional)
Directions
Step 1

Place tofu on a plate lined with several layers of paper towels (to absorb liquid). Using a fork or potato masher, smash tofu.

Step 2

Heat oil in a large skillet over medium-high heat. Add onion and peppers; cook, stirring occasionally, until softened, 3-4 minutes. Stir in chili powder, cumin, paprika, oregano, turmeric, and pepper. Stir to coat the vegetables with the spices, and sauté until fragrant, about 1 minute.

Step 3

Add the tofu and stir. Add beans; cook, stirring often, until heated through, 1-2 minutes.

Step 4

Stir in the kale and cook until the greens are wilted. Remove from heat.

Step 5

Stir in the cilantro, and season with salt and pepper.

Step 6

Serve scramble with tortillas and garnishes, as desired.
Notes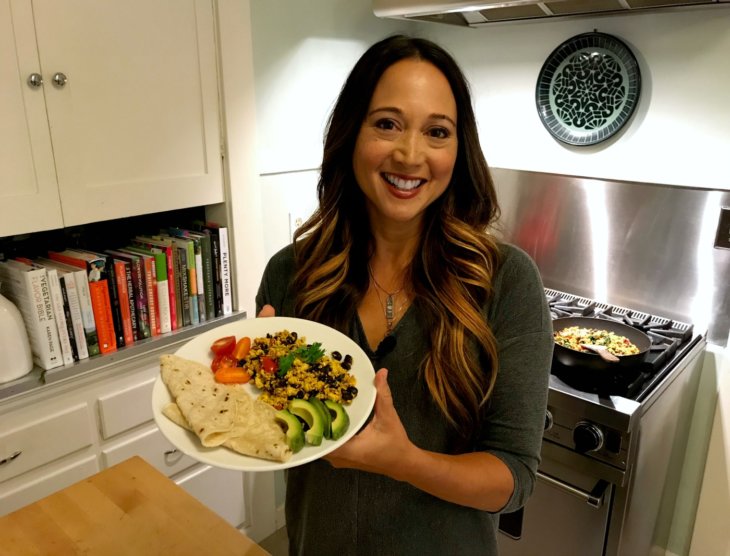 Remember to tag me on Instagram if you try the recipe.