Recipes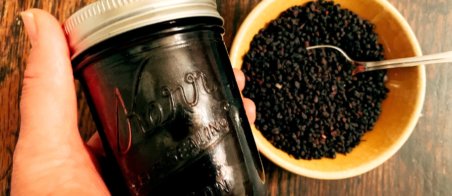 Spiced Elderberry Syrup
Cold and flu season is upon us, and many of us are wondering how we can keep ourselves healthier throughout the winter.
I have a delicious Elderberry Syrup remedy that can be used to help boost the immune system, and to also reduce the severity of symptoms in case you do come down with a cold or the flu. Elderberry has also been shown to reduce sinus congestion. 
Elderberries date back to ancient Greece for treating colds and flu. And in modern times, they've been shown to help reduce the duration of symptoms, especially when taken during the early onset of a cold — in other words, in the first 48 hours.
Important note: elderberries must be cooked in order to deactivate a toxic compound. Never eat elderberries raw!
Dosage: the typical dose is 1/2 teaspoon to 1 teaspoon for kids, and 1/2 tablespoon to 1 tablespoon for adults. As always, consult your healthcare practitioner before using nutritional supplements or natural remedies.
Ingredients
1 cup fresh or ¾ cup dried elderberries
4 cups filtered water
2 tablespoons of fresh ginger, sliced
1 teaspoon cinnamon
1 teaspoon ground clove
1 cup raw honey
Directions
Step 1

Place the elderberries, water, ginger, cinnamon and clove in a pot. Bring to a boil and reduce to a simmer for 45 minutes to one hour.

Step 2

Remove from heat. Mash the berries carefully using the back of a large spoon.

Step 3

Next, strain the mixture using a fine sieve. Transfer liquid to a jar and stir in 1 cup of honey. Discard the cooked berries.

Step 4

Keep your elderberry syrup in the fridge, sealed, for 2-3 weeks.