Recipes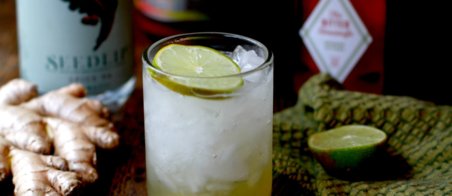 Spiced Mule Mocktail Recipe
Being booze-free at a party (or in a bar) can be a real snoozefest. I mean, club-soda-and-lime is a great way to go, but sometimes you need something more festive, right? Especially when everyone else starts getting their buzz on, and conversation becomes repetitive or muddled.
That's where this Spiced Mule Mocktail comes in. It was inspired by a great new booze-free product I'm loving: Seedlip, a non-alcoholic distilled "spirit" made from botanical spices and citrus peels. It's made using a meticulous copper pot distillation method from the 1600s, and it tastes delicious in mixed drinks of the mocktail variety. Seedlip is sugar-free, sweetener-free and contains zero calories — and completely non-intoxicating and booze-free.
I like the Spice 94 flavor, because it's perfect for a non-alcoholic version of the Moscow Mule.
Seedlip is based in the UK, so it has limited retail distribution here in the US. However, you can order online here.
TIP: The Gingered Honey mixture in this recipe is also great added to plain sparkling water or hot tea.
Ingredients
1 large piece of fresh ginger (4 inches) juiced, or 2 tablespoons bottled ginger juice (I use the Ginger People brand)
1/2 cup raw honey
1 cup filtered water, brought to just under a boil
1/2 cup fresh lemon juice
2 ounces Seedlip Spice 94 (non alcoholic distilled spirit)
1/2 ounce of the Gingered Honey mixture (see instructions below)
1/2 ounce of fresh lime juice, or more to taste
Sparkling water of choice (I'm loving Topo Chico these days)
GARNISH: lime wheel
Directions
Step 1

First, prepare the Gingered Honey. Stir together the honey and hot water until the honey has melted. Then, add the ginger juice and lemon juice, and stir. Pour mixture into a container with an airtight lid. It should keep in the fridge for about a week.

Step 2

To prepare the Spiced Mule Mocktail: build the drink by adding the Seedlip, Gingered Honey mixture, and lime juice to a glass. Stir well, then fill the glass with ice cubes. Top the mixture with sparkling water, and garnish with a lime wheel or wedge. Give a toast, guilt-free, knowing you'll be hangover-free in the morning.
Notes
Remember to tag me on Instagram if you try the recipe.