Recipes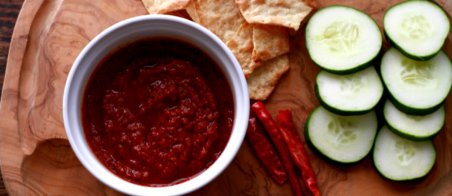 Spicy Harissa Sauce
This spicy sauce is one of my favorite sauces OF ALL TIME. For real.
I like it on tacos, rice bowls, raw veggies… and even by the spoonful. Seriously. I'm obsessed.
The mixture will last in your fridge for 3-4 weeks. However, I'm sure you'll gobble it up way before then.
This recipe is adapted from the 3-Chile Harissa from Bon Appetit. 
Ingredients
15 dried chile de arbol chiles
2 dried guajillo chiles
1 dried ancho chile
1 tablespoon cumin seeds
1.5 teaspoons coriander seeds
1/2 teaspoon caraway seeds
a few cloves of garlic (I like a LOT, but you might start with 2-3). Smash the cloves with the flat side of knife.
1 teaspoon sea salt — smoked salt is nice here, too.
2 tablespoons fresh lemon juice
1 tablespoon white wine vinegar
1 tablespoon double concentrated tomato paste
1.5 teaspoons smoked Spanish paprika
1/2 cup of extra virgin olive oil
Directions
Step 1

Place chiles de arbol, ancho, and guajillo chiles in a large heatproof bowl. Pour boiling water over chiles, to cover. Cover the bowl with a kitchen towel or plastic wrap. Let chiles steam and soak until softened, about 15 minutes.

Step 2

While the chiles are soaking, prepare the spices. Place the cumin, coriander and caraway seeds into a small pan over medium low heat. Toast the spices until fragrant — about 5-7 minutes. Then remove from heat.

Step 3

Remove the seeds to a spice grinder (i.e. or coffee bean grinder or a mini food processor). Pulse until the spices become a coarse powder.

Step 4

Once the chilies are soft, cut them open, and remove and discard the seeds and stems. Ideally, use kitchen gloves while prepping the peppers. This will prevent the hot oils from the peppers soaking into your skin. If you don't use gloves, be sure to wash your hands thoroughly with soap and water after handling the peppers. This is especially important if you will be touching your eyes or face later — i.e. if you wear contact lenses, etc. Trust me — I learned the hard way!

Step 5

Transfer the spice mixture to a food processor, and add the smashed garlic, as well as the salt. Process until the garlic is finely chopped.

Step 6

Add chiles, lemon juice, white wine vinegar, paprika, and tomato paste. Pulse until the chiles are chopped, and a paste is starting to form.

Step 7

Next, run the food processor while streaming in the olive oil. Process until the mixture forms a coarse paste. Add salt and pepper to taste.

Step 8

Use the harissa to add flavor to rice bowls, burritos, nachos, or tacos. You can also add a spoonful or scoop to salad dressings or marinades. Or, you can simply enjoy this on crackers or chips. So versatile, and so good!

Store leftovers in an airtight container in the fridge for 3-4 weeks.