Recipes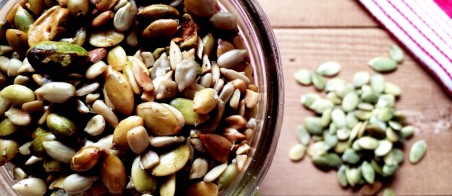 Spicy Seed Mix
This is excellent as a snack, or sprinkled onto any dish to give it more oomph. I like to scatter a couple of tablespoons on top of salads and soups. It also makes an excellent potluck/party snack — big crowd pleaser! Or you can double the batch, and spoon into jars as hostess gifts.
Be careful not to overdo it, though — it can be a little addictive. This recipe is inspired by one from BonAppetit.com.
Ingredients
1 cup raw sunflower seeds
1 cup raw pepitas (pumpkin seeds)
1/2 cup raw cashews or pistachios
2 tablespoons of olive oil (regular, not extra-virgin) or coconut oil (melted)
1/4 teaspoon cayenne (use 1/2 teaspoon+ for more heat)
1/4 teaspoon ground cumin
1/2 teaspoon chili powder
1 tablespoon sea salt
Directions
Step 1

Preheat oven to 375 degrees. Place the nuts and seeds into a mixing bowl. Add the oil, cayenne, chili powder, cumin, and salt to coat.

Step 2

Transfer onto a baking sheet and toast in the oven, stirring and tossing often, until golden brown, 5–10 minutes. Let cool before serving.

Step 3

Watch it disappear — people love this stuff!
Notes
This recipe is from my Healthier Holidays recipe sampler. For more recipes, just click on the link below. The PDF includes recipes for:
1. Ginger Pear Smoothie
2. Kale Salad with Maple Tahini Dressing
3. Spicy Coconut Ginger Soup with Greens
4. Spicy Seed Mix
5. Golden Milk "Latte" with Turmeric and Ginger