Recipes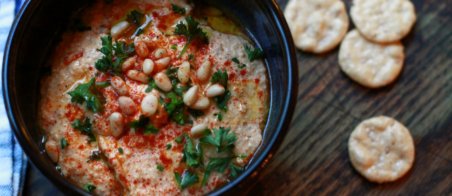 Spicy Sriracha Hummus
This spicy, savory Sriracha Hummus would be perfect for your next party or potluck — or for lunch or snacktime at home.
It's great on rice crackers, or spread inside a wrap (or lettuce wrap) or veggie sandwich.
Plus here's a fun fact: garbanzo beans, lentils, and other legumes — collectively known as pulses — have been shown to reduce cholesterol, reduce risk of stroke, reduce colon cancer risk, stabilize blood sugar levels, feed "good" gut bacteria, reduce bone loss, and support greater bone mineral density.
So enjoy those pulses often — ideally daily!
Ingredients
1 can of garbanzo beans; drain the beans and reserve the liquid
2 cloves of garlic, minced or pressed
1/4 cup freshly squeezed lemon juice
2 tablespoons of extra virgin olive oil
1/4 cup tahini (look for it in the nut butters section at the store)
1 teaspoon oregano
1 teaspoon toasted sesame oil
1/4 cup hemp seeds
1-2 tablespoons sriracha sauce (1 for mild/medium heat)
1/2 teaspoon ground black pepper
1/2 teaspoon sea salt; add more to taste
Garnish: a drizzle of extra virgin olive oil, toasted pine nuts, some smoked paprika, and chopped parsley
Directions
Step 1

Add all of the ingredients, except for the reserved bean liquid, into the bowl of a food processor.

Step 2

Pulse/process until the mixture starts getting creamy. Next, drizzle in the reserved liquid a little at a time until you reach your desired consistency. Depending on your preference, you can keep this kind of rustic and chunky — or add more liquid for a smooth, creamy consistency.

Season with salt and pepper to taste.

Step 3

Transfer to a serving bowl and smooth the top with a spatula. Garnish with a drizzle of extra virgin olive oil, as well as some smoked paprika, chopped parsley, and some toasted pine nuts.