Recipes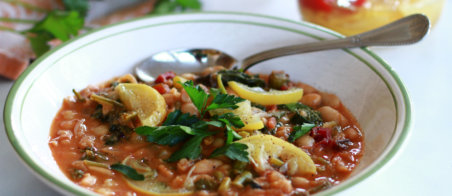 Spicy White Bean Stew with Winter Greens
This is one of my favorite weeknight meals — it all comes together with some pantry staples, and a bunch of bitter greens. 
This stew is delicious, and I also love all of the nutritional goodness happening here:
White beans: all beans and legumes are a really great addition to a heart and gut healthy diet — they're high in fiber, as well as protein. Plus, canned beans are really convenient and inexpensive. Just be sure to buy them in a BPA free can. 

Cauliflower: a cruciferous vegetable that's really high in cancer fighting antioxidants, as well as vitamin C and K.

Leafy greens: high in fiber and antioxidants, these are among the healthiest, most healing foods you can put on your plate.
This recipe was adapted from this recipe from Alison Roman.
Ingredients
1 large bunch (or 2 small bunches) broccoli rabe, chard, or kale, thick stems separated from the leaves
2 tablespoons olive oil, plus more for drizzling
1 red onion, thinly sliced into half moons
6 garlic cloves, thinly sliced
Kosher salt and black pepper
2 to 3 tablespoons harissa sauce (the Mina brand is fairly easy to find) OR you can substitute with tomato paste and a big pinch of red pepper flakes
1 teaspoon cumin
1 teaspoon ground coriander
1 teaspoon smoked paprika
3 (15-ounce) cans large white beans, such as cannellini, butter or great Northern, drained and rinsed
4 cups low sodium vegetable broth
1 preserved lemon, thinly sliced, or 1 lemon, halved, for squeezing
1 cup parsley or cilantro, chopped
Directions
Step 1

First, prepare the greens. Tear broccoli rabe or kale leaves into bite-size pieces and set aside. If using broccoli rabe or chard, chop the stems into ¼ inch pieces. If using kale, discard the stems. Set aside.

Heat the olive oil in a large pot over medium heat. Add the onion, and season with salt and pepper. Cook, stirring occasionally, until lightly browned.

Step 2

Next, add the garlic. Stir while cooking for about a minute, until fragrant.

Add harissa (or tomato paste and red pepper flakes), and stir to coat in the oil. Cook until the harissa mixture turns to a bright orange color, 2-4 minutes.

Next, stir in the cumin, coriander, and smoked paprika.

Add the beans, and season with salt and pepper. Using a wooden spoon or spatula, crush a few beans against the side of the pan. This will help the beans release their starch, which will make for a thicker stew.

Add the broth and reserved stems from the greens.

Bring to a simmer and cook for about 15-20 minutes, until the stew reaches desired consistency.

Step 3

Add the broccoli rabe, chard or kale leaves, as well as the preserved lemon or lemon juice. Give things a stir, and cook for a minute or two, until the greens are wilted but still bright in color.

Step 4

Season with salt and pepper.

Ladle into wide bowls and garnish with chopped parsley and additional preserved lemon slices, if desired.
Notes
Need ideas and inspiration for getting more veggies and plant foods onto your plate? Then hop on the waitlist for my membership program, More Veggies Less Meat.
More Veggies Less Meat is an online membership and community that provides meal prep tips, cooking instruction, recipes, and ideas to help you eat more veggies so you can feel empowered, energized, and strong in your body.
More Veggies Less Meat is open to vegetarian, vegan, veganish, and veg-curious eaters… in other words, it was created for anyone who simply wants to get more veggies in their life.