Recipes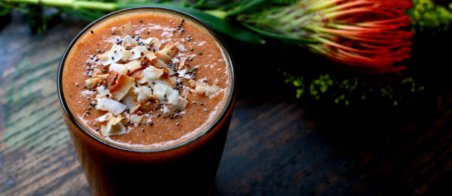 Spring Break Smoothie
Let's face it — we're not going to go from can't-stop-won't-stop on the pizza and wine to six-pack abs overnight.
However, there's still a lot of healing and restoration our magical bodies can accomplish in the 7-10 days we have before we go on vacation.
This special smoothie can be a powerful component of your pre-spring break plan. Or post-spring break recovery!
This energizing concoction contains vitamin C-rich fruit to help strengthen your immune system for upcoming travel, ginger and chia seeds for digestion support (and to help reduce bloating), and coconut water for pre- and post-workout hydration.
Ingredients
8 ounces coconut water (i.e. Harmless Harvest brand; look for it in the refrigerated beverages)
4 ounces cold-pressed carrot juice (or water). If you have a high-speed blender, you could also use 1/4 cup of chopped carrots.
4 ounces filtered water
1 teaspoon grated or minced ginger root
2 small oranges, peeled and seeded
juice from ½ of a lime
2 tablespoons of whole chia seed
2 cups frozen pineapple
OPTIONAL: 1 drop *edible* lemon essential oil (i.e., DOterra brand)
GARNISH: toasted coconut flakes
Directions
Step 1

Place ingredients into blender, adding frozen fruit and ice last.

Step 2

Process until creamy and smooth. Add water a quarter-cup at a time if you want a thinner consistency. Add garnish, if using, and serve immediately. Or store some in fridge for later. Salud!