Recipes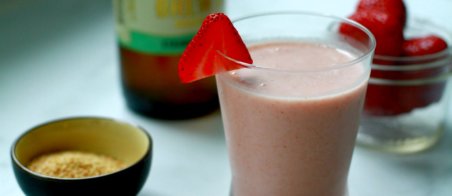 Strawberry Basil Kombucha Smoothie
People often ask me how they can get probiotics into their diet if they don't eat yogurt.
Well, I have a special smoothie that delivers great digestive support, without the dairy that can be difficult for many of us to digest.
Here's more about the nutrition firepower behind this smoothie:
– Kombucha: beneficial bacteria to support a healthy digestive tract.
– Coconut yogurt: some additional probiotics for the digestive system.
– Dates: provide fiber for healthy digestion, as well as minerals such as potassium and magnesium.
– Strawberries: high in vitamin C and manganese (for healthy bones, skin, and blood sugar levels).
– Flax seed: helps regulate blood pressure; also helps reduce risk for breast and prostate cancer.
I hope you (and your digestive system) enjoy this berry-licious smoothie!
Ingredients
1 1/2 cups Brew Dr. Strawberry Basil kombucha (or similar berry flavored kombucha)
1/2 cup filtered water, and additional water if needed
2 tablespoons ground flax seed
2 medjool dates, pitted
1 1/2 cups frozen strawberries
1 banana, cut into chunks and frozen
1/4 cup coconut yogurt (or substitute your favorite plant-based yogurt)
Directions
Step 1

Add all of the ingredients to a high speed blender, adding the frozen fruit and ice last. Blend until smooth and creamy, using the blender's tamping tool if necessary.

Step 2

Serve, and garnish with a big pinch of chia or hemp seeds, if desired. Of, if you want to get really fancy, garnish with a leaf of fresh basil.
Notes
Bonus! Get your free Healthy Meal Planning and Prep Guide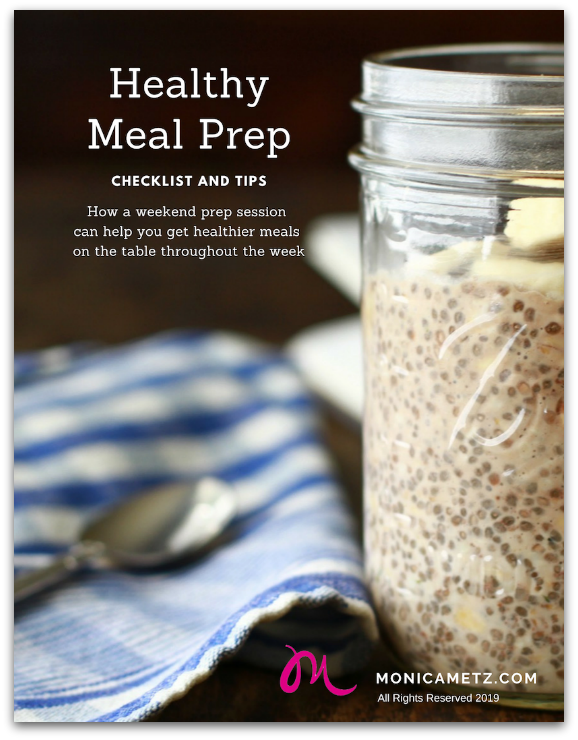 Life is busy, and weekends can be super busy, whether you're doing errands, having fun, or dedicating your entire weekend to youth sports LOL.
However, if you make the time for meal prep, you won't regret it. Especially when you realize it takes you only 15 minutes to make dinner during the week, instead of the usual 30-60.
Here's even more good news: I created a new freebie for you! It's my downloadable and totally printable Healthy Meal Prep Guide.
Inside, you'll find more details about my approach, as well as:
Shopping and meal prep strategies.
A blank meal planning template.
Sample meal plans.
Downloadable and printable shopping list.
Weekend prep session checklist.
Ready to download the guide?
Great!
Just click here to get your Healthy Meal Prep Guide.