Recipes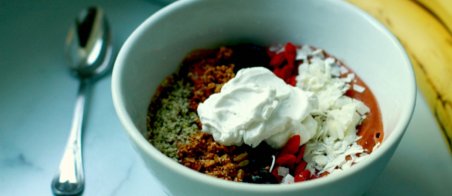 Strawberry Cacao Smoothie Bowl
I eat this smoothie bowl A LOT.
It's seriously my favorite. I mean, who doesn't love the combination of chocolate and strawberries? And for breakfast? Yes, please!
One thing to be aware of: a high speed blender is a must for making smoothie bowls or "nice cream."
That said, I totally get that upgrading to a Vitamix or other high speed blender is a big deal. It's definitely an investment.
I remember being completely freaked out about getting my Vitamix at Costco more than 10 years ago. It was the most I'd ever spent on a kitchen appliance. However, that basic model has served me well over the years, happily blending 2-3 times a day with nary a complaint.
So if you've been making smoothies for awhile now, and want to try some recipes that require a bit more horsepower, I whole heartedly recommend investing in that high speed blender. Your smoothies will be lush and creamy… and you'll be able to eat fruit-based soft serve for breakfast. What could be better than that?
Ingredients
2 bananas, sliced and frozen
1 heaping cup frozen strawberries
2 tablespoons unsweetened cacao powder
2 tablespoons goji berries, divided
2 tablespoons hemp seeds, divided
1 medjool date
2-3 tablespoons of coconut water or unsweetened hemp milk
1/4 cup of your favorite granola
1/4 cup fresh strawberries, sliced (or other fresh berries of choice)
For garnish: coconut flakes and/or a dollop of coconut yogurt
Directions
Step 1

Add the frozen banana, berries, cacao powder, 1 TB goji berries, 1 TB hemp seeds, and date to a high speed blender. Pour the liquid over the frozen fruit, and blend, using the tamper tool to keep things going.

Step 2

Blend until the fruit has broken down, and the mixture is smooth, using the tamper tool as needed. Continue blending until the mixture resembles soft serve ice cream.

Step 3

Transfer the mixture to a bowl using a rubber spatula, and smooth out the top. Garnish with the berries, granola, reserved goji berries and hemp seed, as well as any other toppings of choice.
Notes
Bonus! Get your free Healthy Meal Planning and Prep Guide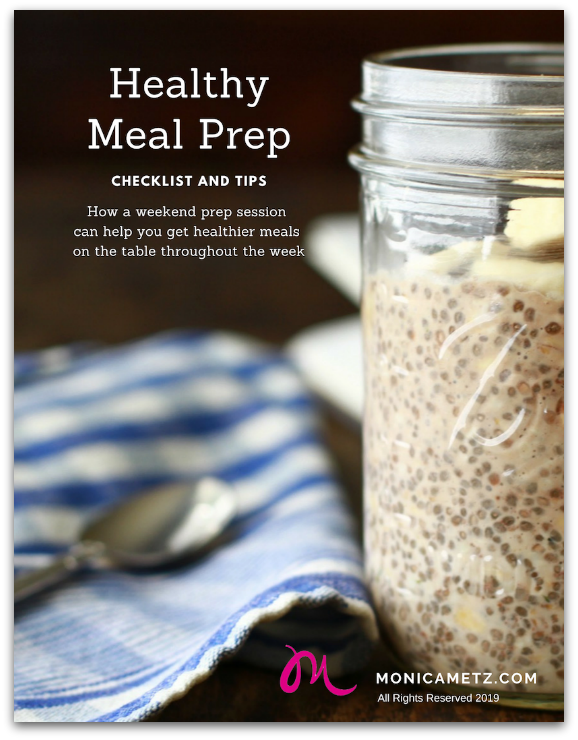 Life is busy, and weekends can be super busy, whether you're doing errands, having fun, or dedicating your entire weekend to youth sports LOL.
However, if you make the time for meal prep, you won't regret it. Especially when you realize it takes you only 15 minutes to make dinner during the week, instead of the usual 30-60.
Here's even more good news: I created a new freebie for you! It's my downloadable and totally printable Healthy Meal Prep Guide.
Inside, you'll find more details about my approach, as well as:
Shopping and meal prep strategies.
A blank meal planning template.
Sample meal plans.
Downloadable and printable shopping list.
Weekend prep session checklist.
Ready to download the guide?
Great!
Just click here to get your Healthy Meal Prep Guide.