Recipes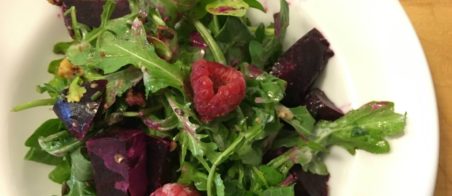 Summer Beet + Arugula Salad with Sweet Cumin Dressing
Summer party season can often be a little challenging for people who want to follow healthier habits. One of my top tips for surviving summer party season is to take something healthy with you. That way, you'll have something healthy to eat at the party, and your health-minded friends will be happy to have a healthy option, too. This roasted beet and arugula salad is a hearty, nutritious, and delicious combination of earthy beets, bitter greens, and a slightly sweet tahini dressing. Party trick: roast and peel the beets earlier in the week, and the salad comes together in a snap!
Serves 4 as a starter, 2 as a main.
Ingredients
1 large beet, or 2 small ones.
5 ounces of baby arugula (ie., a small box)
1 cup of raw walnuts (optional: toast lightly in a pan if desired)
1/2 cup of fresh blackberries or raspberries
1/3 cup tahini (sesame paste)
Juice from 1 lemon
1 tablespoon pure maple syrup
1/3 cup of hot water
1 tablespoon minced shallot, or 1 clove garlic, pressed
1/4 teaspoon ground cumin
Sea salt and ground pepper, to taste
2 tablespoons extra virgin olive oil, plus some extra oil to dress the arugula
Directions
Step 1

Preheat the oven to 400 degrees.

Step 2

Prepare the beets: scrub with a vegetable brush under running water.

Step 3

Then, prepare the beets for roasting. Wrap each beet inside some foil (the beets can still be slightly wet). Place the beets in a roasting pan and bake for about 45-60 minutes. Cooking time will depend on the size of the beet.

Step 4

When you're able to easily pierce the beet with a paring knife, the beet is finished roasting.

Step 5

Once the beets are cool enough to handle, use a paper towel to rub off the skin (this can get a little messy, so do it over the sink). Discard the skins, and trim off the ends of the beets.

Step 6

Dice the beets and set aside (or store in the an airtight container in the fridge for 2-3 days.

Step 7

While the beets are roasting, prepare the dressing. Add the tahini, olive oil, lemon, maple syrup, shallot (or garlic), and cumin into a small bowl. Whisk to combine.

Step 8

Whisk in the hot water a little bit at a time, whisking until the water is incorporated. Keep adding water and whisking until you reach the desired consistency for your dressing. Taste and season with sea salt and pepper.

Step 9

To assemble the salad, place arugula in a bowl. Drizzle with 1-2 teaspoons of olive oil, and a squeeze of lemon. Toss the greens gently, and divide onto plates.

Step 10

For each salad: place some diced beet atop the greens, then garnish with berries and walnuts. Drizzle with the cumin dressing, and season with salt and pepper. Serve and enjoy!