Recipes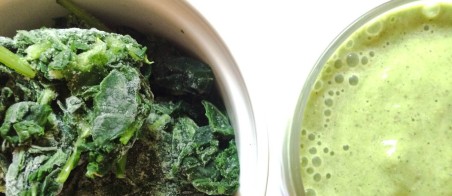 Super Simple Green Smoothie
Do you want to try making a green smoothie — but don't know where to start? This recipe is for you! This super simple green smoothie can be blended in a flash on busy weekday mornings. Buying frozen spinach or kale also makes it easier since you don't have to make a special trip for fresh greens. Plus, the frozen vegetables give the smoothie a nice, frosty consistency.
Ingredients
2 cups unsweetened almond milk
2 tablespoons of unsweetened nut butter (almond, peanut, cashew)
1 banana, chopped into chunks and frozen
1 apple or pear, cored and chopped
1 cup frozen spinach or kale
Directions
Step 1

Add all ingredients to your blender.

Step 2

Process until creamy and smooth. Add water a quarter-cup at a time if you want a thinner consistency. Serve immediately, or store half in the fridge for an energizing afternoon snack. Or, put the extra smoothie in a to-go cup and share with your workout buddy or office mate.
Notes
Need some more ideas and recipes?
Just follow the link below, and you'll get instant access to 3 of my most popular kale recipes:
The Easy-on-the-Green Smoothie (low "green" intensity)
Nacho Cheese Kale Chips (medium intensity)
Massaged Kale Salad (high — for kale lovers)
The recipes offer a variety of kale "intensity" — a tasty smoothie for beginners, kale chips for intermediate veggie eaters, and a kale salad for the advanced veggie eaters. Enjoy!