Recipes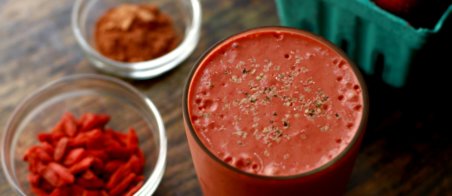 Superberry Cacao Smoothie | Plant based, dairy free, GF
This Superberry Cacao Smoothie gets its inspiration from those fancy chocolate covered strawberries we see around Valentine's Day or at weddings. I figured, why save that magical chocolate-strawberry combination for special occasions when you can have it in a delicious and healthy smoothie?
I added dried goji berries — high in antioxidants and anti-inflammatory compounds — for an extra nutritional boost and yummy flavor. Goji berries support immune function, healthy skin, and healthy eyes. Goji berries are pretty easy to find in most natural markets, as well as on Amazon.com.
Ingredients
1 cup organic light coconut milk
1 cup filtered water
1/4 cup of hemp seeds
2 tablespoons ground flax seed
1 teaspoon vanilla extract
1 banana, chopped and frozen
1 ½ cups frozen organic strawberries
2 teaspoons unsweetened cacao powder or nibs
2 tablespoons goji berries
Directions
Step 1

Place ingredients into blender, adding frozen fruit and ice last. Process until creamy and smooth. Add water a quarter-cup at a time if you want a thinner consistency.

Step 2

Serve immediately or store some in the fridge for later. Salud!
Notes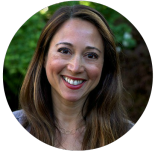 If you enjoyed this Superberry Cacao Smoothie recipe, check out my other healthy smoothie recipes for the Lavender Smoothie, Kale-icious Smoothie, Raspberry Rose Smoothie, and more.
Remember to tag me on
Instagram
if you try the recipe. I'd love to hear from you!