Recipes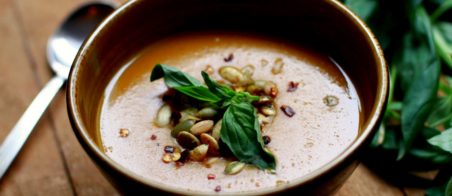 Thai Pumpkin Curry Soup
Yay for pumpkin season! It's the inspiration behind the pumpkin spice latte craze, of course, but pumpkin — real pumpkin, that is — offers so much more!
Pumpkin delivers powerful nutrients such as beta-carotene, which the body then uses to make Vitamin A — an important antioxidant that helps counteract free radicals in our skin. In other words, optimal levels of vitamin A can help prevent wrinkles, and keep our skin looking as youthful as possible.
Pumpkin is also high in Vitamin C, which comes in real handy during cold-and-flu season.
For this recipe, pumpkin lends a creamy, lush quality to a spicy and satisfying soup. It's one of the most popular recipes featured in my Camp Kale nutrition and lifestyle program.
Ingredients
1 tablespoon organic coconut oil or ghee
1 yellow onion, diced
3-4 garlic cloves, minced
1-2 tablespoons red curry paste (note: curry pastes offer a wide variety of heat — start with a small amount if you're not sure... you can always add more!)
1 tablespoon freshly grated ginger
1 teaspoon ground turmeric
2 cans of organic pumpkin purée (unsweetened)
1 tablespoon coconut aminos (this is a low-sodium, low-glycemic ingredient made from coconut sap. I use it instead of the traditional fish sauce found in Thai cuisine)
2 cups low-sodium vegetable broth, plus additional broth if needed
1 can of coconut milk (15 ounces)
1/2 cup of filtered water
1 bay leaf
1 teaspoon maple syrup
sea salt and pepper, to taste
1 tablespoon fresh lime juice
Your choice of optional toppings: toasted pumpkin seeds, mango chutney, sliced scallion, sliced basil, lime wedges, toasted coconut, and hot sauce.
Directions
Step 1

In a large soup pot, heat ghee or coconut oil over medium heat. Add the onions and cook 10-15 minutes, until they soften and start to caramelize.

Step 2

Add the garlic and stir for a minute so it doesn't burn. Add the curry paste, ginger and turmeric. Stir so the onions are coated with the spices.

Step 3

Add the pureed pumpkin, coconut aminos, vegetable stock, coconut milk, water, maple syrup, and bay leaf, and cook for 15-20 minutes. Add a bit more water or broth for desired consistency.

Step 4

Remove from heat, remove the bay leaf and puree with a handheld immersion blender or regular blender.

Step 5

Place back on the stove, and stir in the lime juice. Season with salt and pepper as desired.

Step 6

Heat gently until to desired temperature. To serve, ladle the soup into a bowl and serve with choice of condiments and garnishes.