Recipes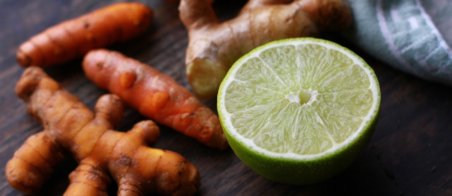 Turmeric Paste: powerful immune booster
Turmeric paste is one of my favorite anti-inflammatory — and anti-viral — ingredients. I use turmeric in curries, soups, smoothies, sauces — and a magical little elixir called Golden Milk.
Sometimes I use the fresh version — if I can find it at the store — but more often I rely on the powdered form. Both are powerful, and can be used to create delicious, inflammation-soothing dishes.
Turmeric's effect on the body can be boosted by two things: heating it, and combining it with black pepper. I also like to add a bit of healthy fat such as coconut oil or ghee to help the body absorb the nutrients.
Make this paste, let it cool, and keep it in an airtight container in the fridge for about 2 weeks. You can use it to make a Golden Milk Latte, or throw a teaspoon into a mango smoothie for an anti-inflammatory boost.
Ingredients
1/4 cup ground turmeric
1/2 teaspoon black pepper
1/2 cup of water
3 tablespoons coconut oil
Directions
Step 1

Set a small pot over medium low heat, and add the turmeric and pepper. Stir in the water, and stir frequently. As the mixture is heated, the water will be incorporated and a thick paste will form. Once this happens, turn off the heat.

Step 2

Next, add the coconut oil, and stir until incorporated. Spoon the paste into a small jar and let it cool. Keep it covered, in the fridge, until ready for use. The mixture should be fine for a week or two.