Recipes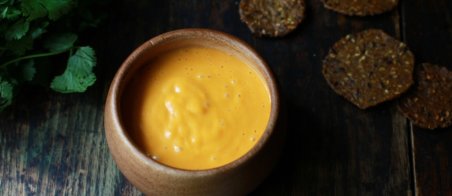 Vegan Nacho Cheese Sauce
This plant-based "cheese" sauce blew my mind the first time I had it. We were having dinner while on vacation in Hawaii, and the sauce was served over the best tasting plate of nachos I've ever had. The sauce was so delicious and creamy — so much like melty, spicy queso. I couldn't believe it was dairy free.
Then, when I had it again, I actually thought there was a mistake in our order — that we had been served "real" (dairy based) nachos instead of vegan. But upon further inspection, my family and I figured out it was indeed the plant-based version. How amazing that this sauce fooled both cheese-loving and plant-based palates in our group.
This recipe may seem long, but the preparation is super simple — you boil the vegetables until tender, and then whiz everything together in the blender. That's it!
I hope you enjoy this recipe, which has become one of our family's favorites. It comes to us from Chef Patrick from Kohanaiki Golf and Ocean Club on the Big Island of Hawaii. Mahalo, Chef Patrick!
Ingredients
1 cup white potato, peeled and cubed
1/2 cup carrot, peeled and cubed
1/4 cup avocado oil
1/4 cup plain, unsweetened plant milk (i.e., hemp, soy, etc.)
2 teaspoons freshly squeezed lemon juice
6 pickled jalapeño slices
3 tablespoons jalapeño pickling liquid
1 tablespoon tomato paste
1 1/2 teaspoons arrowroot flour/starch
1 teaspoon garlic powder
1 teaspoon onion powder
1 tablespoon nutritional yeast
1/2 teaspoon sea salt
freshly ground pepper, to taste
Directions
Step 1

Peel and cube the potatoes and carrots. Add to a pot of boiling water. Cook for approximately 10 minutes, until vegetables are tender, and easily pierced with a fork. Be careful not to overcook the potatoes. If you cook them for too long they will become starchy and your sauce will not be smooth.

Step 2

Drain the potatoes and carrots from the boiling water and add to a high-speed blender (like a vitamix) immediately.

Step 3

Add the remaining ingredients to the blender and combine until smooth.

Step 4

Your sauce may be hot enough to serve immediately. But if it isn't, gently heat it up in a small pot to thicken it slightly before pouring it over whatever food you want to make cheesier! For starters, try chips, chili, broccoli, or cauliflower.