Recipes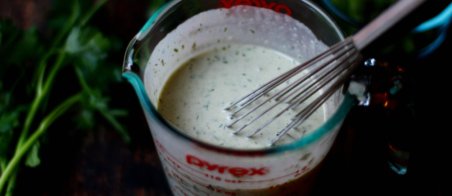 Vegan Ranch Dressing
Tahini is a nutty-flavored recipe overachiever — it's great in salad dressing, veggie dip, sauces for rice bowls, and to give soup a creamy, rich texture.
You can even add it to a smoothie for a dose of healthy fats!
Made from ground sesame seeds, tahini is a good source of minerals such as manganese and copper (anti-inflammatory effects); magnesium (can lower high blood pressure and support healthy sleep); calcium and zinc (bone health); and important phytosterols that can reduce cholesterol.
Ingredients
1/4 cup tahini
1/4 cup plant-based mayonnaise such as Vegenaise
juice from 1 lemon
1 teaspoon of lemon zest
1 tablespoon apple cider vinegar
1/2 teaspoon tamari
1 teaspoon onion powder
1/2 teaspoon garlic powder
1/2 teaspoon Italian seasoning
1 teaspoon dried chives
1 cup total of mixed herbs: chopped parsley, dill and scallions.
sea salt and ground pepper, to taste
additional water, if needed
Directions
Step 1

Place all of the ingredients — except for the fresh herbs — into a small bowl. Whisk until ingredients are combined. Add water a tablespoon at a time for desired consistency.

Step 2

Taste and adjust for seasonings with salt and pepper. Fold in the herbs.

Step 3

Dress salad greens, or drizzle over roasted vegetables, baked potato, or "bowls." The leftover dressing should keep in the fridge for 3-4 days.