Recipes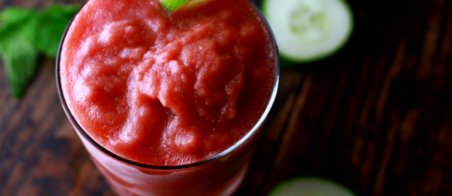 Watermelon Mint Slushie
This slushie is just as good as the Frozé (frozen rosé!) at Portland's Cheese and Crack. Maybe even better, if you're trying to drink less, or need a great mocktail recipe for kids and sober friends.
Blend up a pitcher for lazy summer afternoons. This is especially good during a heat wave, when you're too hot and tired to do anything else.
Ingredients
Prep ahead: you'll need about 4 cups of watermelon chunks (seedless). Freeze for 4 hours, or overnight (see below).
½ cup cucumber: skinned, seeded and chopped
juice from 1 lime (about 2 tablespoons)
¾ cup coconut water (I like Harmless Harvest the best)
8-10 fresh mint leaves
Optional: add one ounce of tart cherry juice concentrate (Such as Michelle's Miracle/Cherry Works Tart Cherry Concentrate)
Optional: sweeten to taste with a teaspoon of honey or maple syrup
a pinch of Himalayan pink salt
Directions
Step 1

Prep ahead: cube the watermelon and put into a ziplock bag. Freeze in a single layer, so the chunks don't stick together. Freeze for about 4 hours, or overnight.

Step 2

Add the frozen watermelon, lime juice, coconut water, salt — and tart cherry concentrate, if using — to the blender. Process until smooth. Add a bit more water or coconut water as needed.

Step 3

Then, blend in the mint until incorporated.

Step 4

Pour into glasses and garnish with mint. Serve.