Over the last few weeks, I've blogged about one of my favorite rituals — Cheat Day — as well as what can happen when we make ill-advised Cheat Day decisions.
Well, after my unpleasant experience of Driving Under the Influence of Pancakes, I decided to make a change.
When I took the time to sit down and really consider my past Cheat Days, I realized that 99% of my indulgences have involved bread of some kind — sometimes, a baguette and a good cheese or my beloved garlic bread, but more often, pizza. The salame pizza at Oven and Shaker. The roasted padron pepper pizza at Lucca. Even make-your-own pizza night in our own kitchen. When it comes to pizza, it's all good to me.
In addition to pizza, I have another treasured weekend tradition involving bread. 
Most Sunday mornings, my husband ventures out to pick up coffee for us at our local Peet's. And sometimes, if I'm really lucky, he makes an extra stop at Grand Central for bolo rolls.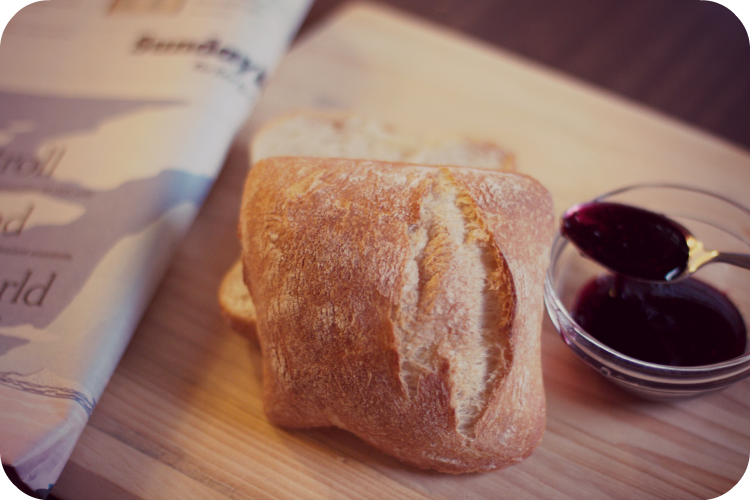 I mean, look at that thing. Gorgeousness.
This mini ciabatta style loaf, rustic and light, has plenty of air-holes, perfect for capturing melted butter and mixed berry jam.
It's heaven, I tell you.
Except, of course, if you happen to be sensitive to gluten.
Which I am.
But I keep telling myself I'm not when the weekend rolls around, and I want pizza or a bolo roll smothered in butter and jam.
And then after Cheat Day, I wonder why my skin's breaking out or I feel sluggish or I get all hive-y after I work out. By the way, I recently discovered there's a fancy name for what I call hive-y: wheat dependent, exercise-induced hives. Which, for some, can present as wheat dependent, exercise-induced anaphylaxis. So glad that's not the case for me!
But I digress.
Today's post is about cheating "better" on Cheat Day — whether you're sensitive to gluten, dairy,  corn, sugar, eggs, or any of the other common allergens and irritants out there. Or even if you simply want to lose some weight and feel healthier.
Cheat Day, at its best, should really about indulging in meals or treats that feel like an indulgence, but aren't actually harmful to your body. Ideally, your Cheat Day treats will help you feel rewarded and pampered, without any long-lasting effects such as post-indulgence headaches, acne, fatigue, brain fog, mood swings, bloating or weight gain. 
This isn't always easy.
Fine-tuning Cheat Day can require some careful consideration and creative thinking.
Then we need time for our taste buds to adjust to — and appreciate — different flavors and foods.
And, perhaps the most difficult of all, Cheat Day 2.0 involves flexibility and compromise — not always with other people, but with ourselves as well. In my case, it means navigating the impulses between the "devil" who wants the salame pizza, and the "angel" who wants me to eat carrots instead.
Carrots? What kind of a Cheat Day indulgence is that?
It's not! That's where the compromise comes into play.
The compromise part of Cheat Day 2.0 means focusing on the actual flavors you like, and being flexible on the medium through which these flavors are delivered.
Pizza, for example. When I took time to break down pizza's appeal, I realized I craved the savory flavors: garlic, caramelized onion, red pepper flake, fennel seed, the salty tang of romano cheese. Then, I tried to let these flavors drive the indulgence, and focus less on the bread I knew I wanted to avoid.
The result? Instead of indulging in pizza or Cafe Castagna's legendary hamburger, I had the Kale Caesar (grass-fed beef) Burger Bowl at Dick's Kitchen, complete with convection baked "not fries" and a killer vegan milkshake made with Coconut Bliss. Very savory, very satisfying. Especially when I stopped comparing it to pizza — which it can never be — and instead appreciated it for what it is: an indulgence that won't leave me feeling like a train wreck afterward. 
The other Cheat Day 2.0 treat I enjoyed last weekend was homemade coconut-cinnamon granola.
I often bake up some granola for my son's breakfasts, but I don't really eat it throughout the week since my preferred weekday breakfast is a green smoothie. But on a Sunday morning when I'm jonesin' for a treat and eyeing my husband's bolo roll with deep envy? This gluten-free and super tasty granola comes bounding to the rescue.
My coconut-cinnamon granola has far less sugar and fat than grocery store brands, and there are no weird industrial ingredients such as whey protein concentrate or natural mixed tocopherols (for reals — check out the ingredients next time you buy big brand granola).
Plus, it's delicious and transcends the cold cereal category altogether — just like that fancy $8 small-batch granola you see in artisan bakeries, but at a fraction of the price.
Crunchy and carb-y, sweet and satisfying — it's a Cheat Day worthy treat that's actually full of good things such as protein, fiber and healthy fats. 
This granola is very easy to make, involving a few basic ingredients and then your choice of add-ins. In fact, I usually store the granola relatively plain in a quart jar, and then customize each serving according to preference. That way, my son (who doesn't like nuts in his granola) and I (yes to nuts, goji berries and extra coconut) are both happy.
Consider making a double batch while you're at it — I often make scoop some into a pint jar as a special surprise for friends and clients. It would also make a great hostess gift if you need ideas for the upcoming holidays. 
Speaking of the holidays… it's almost Thanksgiving!
How are you celebrating?
Traditional turkey, deep fried, or tofu style? Haricots verts or green bean casserole? Pumpkin pie or pecan?
However you're celebrating, whoever you're celebrating with, I wish you and your loved ones a safe, healthy and happy Thanksgiving!
Coconut Cinnamon Granola (Gluten Free)
3 cups of gluten free, old-fashioned oats (I use Bob's Red Mill — easy to find)
1/3 cup of melted coconut oil (don't microwave it; just set the jar in a bowl of hot water to melt the oil)
1/4 cup pure maple syrup
1/4 cup honey
2 teaspoons cinnamon
1/4 teaspoon ground ginger
1/2 teaspoon pumpkin pie spice
1 teaspoon vanilla extract
1/2 cup of unsweetened coconut flakes, toasted in the oven until golden (watch carefully!)
1/4 cup of candied ginger bits (I like the Ginger People "chips")
1/2 cup hemp seeds
1/2 – 1 cup of unsalted nuts and/or seeds (these days I'm really liking shelled pistachios)
1/2 – 1 cup of dried fruit of choice (I usually use cranberries or goji berries)
Preheat oven to 350 degrees and line two baking sheets with parchment paper or silpats. Add oats to a large mixing bowl. Pour coconut oil into a measuring cup and swirl it around a little, then add to the bowl. Measure maple syrup and honey into the same measuring cup and add to the bowl (the oil will help get the sticky sweeteners out of the cup and into the bowl). Add the vanilla extract, cinnamon, ground ginger and pumpkin pie spice, then mix well. Make sure the oil and sweeteners are incorporated consistently throughout the oats.
Divide the mixture between the two baking sheets and use a spatula to create a single layer of oats on each pan. Bake until golden — watch carefully, the granola can burn easily. This should take about 15-20 minutes.
When the oats have reached the desired golden-ness, remove the pans and let the granola cool. Transfer to a clean mixing bowl and toss gently with the toasted coconut, candied ginger, hemp seeds, nuts, seeds and dried fruit. Remember: all of the add-ins are optional — customize accordingly. I also like my granola with some homemade almond milk.
This recipe makes enough for a quart sized jar of granola, plus enough leftovers for a little snack! It should stay fresh in the jar for several days, but believe me, it'll be gone way before then. 
For more healthy recipes and lifestyle tips, sign up for my newsletter — it's free!
I'm so grateful that my relatives living in the Philippines are safe and okay. However, there are so many who have been affected by Typhoon Haiyan, and they still desperately need food, fresh water, medicine, and shelter. Please consider making a donation to UNICEF to support much needed relief efforts. For information, please watch this public service announcement from my brother Erik Spoelstra, Head Coach of the Miami Heat. Here's the link to make an online UNICEF donation.