A few years ago, I remember taking great pains to set up our home bar. I was doing PR with some restaurant clients at the time and, Portland being the foodie town that it is, I was inspired to create an impressive home bar.
Beautiful cocktail books were bought. Obscure bitters procured. Glassware polished. Specialty spirits stocked. Recipes scrutinized and adjusted.
In the end, my husband and I did assemble a pretty solid home bar, and it certainly comes in handy when people come over for dinner.
However, life has changed in recent years.
I'm now a nutritionist — so there's that whole healthy living thing. And while I still enjoy the occasional cocktail, it's no longer an every day indulgence. And I'm far more likely to be spending time concocting a smoothie or a salad recipe than I am a cocktail.
Which got me thinking… there's a ton of information out there — not to mention furniture, barware, books and beverages — to help you set up your home bar.
And there's relatively few resources about how to set up your own smoothie "bar," which is of course a much healthier thing to do.
The Smoothie Bar
If you're new to making smoothies, or are stuck in a rut, here are a few things to consider when setting up your smoothie bar:
Invest in a Good Blender. This is one of the all-time best purchases you can make. Hands down. It doesn't have to be a high-end blender like a Vitamix, although I certainly recommend them. Your blender should be strong enough to pulverize and liquefy ingredients such as nuts and greens, and it should be easy to clean. Bottom line: you need a strong blender. Because no one likes lumpy smoothies.
Put Down the Protein Powder. You don't have to use protein powder to make a protein-rich smoothie — in fact, I rarely do. Instead, I like to use whole nuts and seeds, as well as nut butters, for my smoothies. I've tried a wide range of protein powders, and have decided to use whole, unrefined protein sources instead. One: nuts and seeds are tastier. And two: I don't like using processed powders that come with a long ingredient list that includes isolates, mysterious flavorings, sweeteners, and other chemical-ly things I don't recognize. Nuts and seeds provide protein, healthy fats, fiber and minerals — and they help with weight loss and improved metabolism.
Keep Nuts, Seeds and Oils in the Refrigerator. Did you know that nuts and seeds can go rancid if you store them in a kitchen drawer or on your counter? Keep them in the fridge — or the freezer if you won't be using them for awhile — this retains the flavor and nutrients.
Create a Smoothie Section in Your Refrigerator. I store most of my smoothie ingredients in pint-sized glass jars, and then keep the jars on a dedicated shelf in the refrigerator door. This works much better than when all of my ingredients lived in one of the produce drawers, and I had to paw through bags and packets every morning.
Create a Smoothie Section in Your Freezer. Keeping all of your frozen fruit on one shelf is also a much appreciated timesaver in the morning.
Make Your Own Blend. Sometimes I don't like to scoop everything out of the individual jars every morning. If I'm making a certain smoothie frequently, I'll make a blend of those particular nuts and seeds and use that for my morning smoothies. Here's a link to my post on DIY Smoothie Blends. 
Keep Your Recipes Handy.

I keep one or two books on my kitchen counter, right by the blender, for easy reference. My favorite recipes — if I haven't memorized them already — are marked with a little paper tab from the office supply store. I've also been known to print out a recipe and tape it to the inside of a kitchen cabinet. 
Need some ingredient ideas? Here are a few to get your started:
Almonds
Almond butter
Cashews
Cashew butter
Organic, non-GMO peanut butter
Flax seeds
Hemp seeds
Chia seeds
Pumpkin seeds
Walnuts
Brazil nuts
Pistachios
Hazelnuts
Coconut butter (with coconut "flesh")
Cacao powder (unsweetened)
Vanilla extract
Almond extract
Peppermint extract
Cayenne pepper
Cinnamon
Nutmeg
Pumpkin pie spice
Cardamom
Ground cloves
Fresh herbs: cilantro, parsley, etc.
Fresh ginger root
Fresh lemons and limes
Frozen berries and fruit: blueberries, blackberries, raspberries, strawberries, cherries, acai puree (unsweetened)
Fresh leafy greens: baby spinach, kale, romaine, arugula (yes, arugula!)
I hope these tips come in handy for your home smoothie bar, and make it easier for you to whip up a healthy smoothie for breakfast instead of resorting to less healthy options such as a latte-and-scone (my old favorite).
How about you? Do you have any tips or ideas to share? If so, please post a comment below. I'd love to hear from you!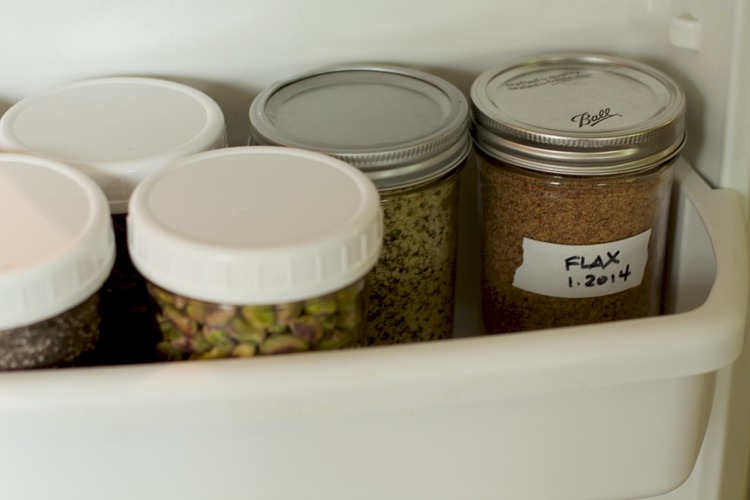 For more healthy recipes and lifestyle tips, sign up for my newsletter — it's free!