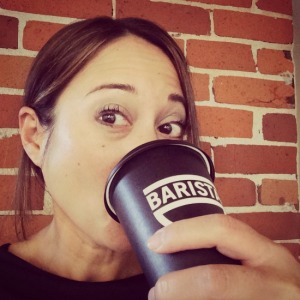 Just a quick reminder that Fall Training Camp (FTC) is just around the corner — it starts on Monday, September 29!
Part of my personal preparation for FTC has been to start wrangling my caffeine habit, which crept up on me over the summer. [Yeah, sure, I'll have a quad-shot Americano — sounds fantastic!]
I'm proud to share that I've successfully migrated to a split-shot Americano (half-decaf in fancy barista talk), and I'll keep cutting back gradually until FTC starts later this month.
Because making changes gradually is what FTC is all about — I hate caffeine withdrawal headaches and don't want you to get them either.
That's why the first week of FTC will be devoted to gradually weaning ourselves off some of foods (and beverages!) that can give our bodies the most trouble.
We'll start cutting back on the caffeine, drink less alcohol, and start giving away our peanut butter-filled pretzels, diet soda, corn chips, Pinot Gris, leftover Easter candy and other binge bait.
After that, our bodies will be better prepared for the Clean Living Bender that follows: Blackberry Mint Smoothies, Creamy Cauliflower Soup, Lemon-Dijon Roasted Salmon, Spicy Nut-Seed Mix and other yummy treats that are, as my Dad often says, "good and good for ya!"
The final week, we'll do a little test on ourselves by reintroducing some of the potentially troublesome foods and beverages back into our diet and see how we do.
Ultimately, we'll figure out how to live healthy when dealing with the real world: parties, work travel, and too-busy-to-cook nights.
Want more details? Here's an FAQ that might help:
Q: What is Fall Training Camp?
A: (FTC) is designed to get your health back on track for the winter months. FTC is an online course that features individual nutrition, lifestyle and Pilates coaching. It's like joining a group at a health club, but better. It's better because you can access all the program materials and interact with the FTC community via your computer, phone, iPad or tablet — and do the exercises to fit your schedule.
Q: When is Fall Training Camp?
A: 28 days. It starts on September 29 and ends October 27, 2014. It's basically one month dedicated to jump start you for a more healthier, more energetic you.
Q: What do I receive as a Fall Training Camp participant?
A: Fall Training Camp — whether you participate in Portland, Miami or online only — includes the following:
Pre-Camp Guidebook – you'll receive, via email, an eBook (PDF format) that shows you how to prep your pantry and make other preparations for Fall Training Camp.
Weekly Meal Plans and Featured Recipes – these will also be sent directly to your email inbox.
Daily Email: Each day throughout the program, we'll send a special email to your inbox featuring the day's nutrition focus and lifestyle tips.
Pilates in the Grove's Home Exercise Program (video): This consists of functional training and cardio exercises you can do on your own at home — once a week, we'll include a link to a video demonstration, and each of the daily emails will include a description for an additional exercise.
Weekly Conference Calls for Q&A and Additional Support: each week, we'll host a live Q&A to lend support. We'll also provide a recording of the call in case you have to miss it.
Access to our Private Facebook Group — this is a great place to ask questions and exchange support with fellow participants.