Recipes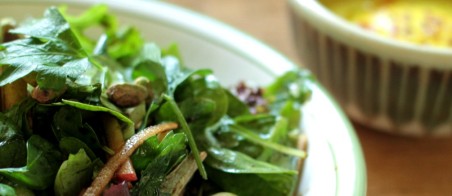 5-Second Vinaigrette + Basic Salad
Sometimes I'm organized, and I make a batch of dressing for our salads throughout the week.
More often, though, I employ this technique. It's super simple, and just as delicious. In fact, I'll use this method when having company over, and am often complimented on the delicious "dressing."
I recently listened to a Bon Appetit podcast featuring Chef Joshua McFadden from Portland's famed Ava Gene's restaurant. His menu's Giardini section is outstanding, by the way — not to be missed. Anyway, on the podcast he mentioned that he rarely uses a classic emulsified dressing for the salads there. Instead, he coats the greens with high quality vinegar, tastes, and then adds the oil.
So I guess my kitchen laziness turns out to be a pro tip — love it when that happens!
Ingredients
1 bottle of high quality aged balsamic vinegar (Fini is good quality vinegar that's readily available in natural and gourmet markets)
1 bottle of high-quality extra virgin olive oil, organic preferred
salad greens
fresh herbs: Italian parsley, cilantro, etc.
flaky sea salt and pepper, to taste
a handful of toasted nuts, chopped
Directions
Step 1

Wash and spin salad greens. Place greens and herbs into a large bowl.

Step 2

Drizzle greens lightly with the balsamic vinegar — several times around the bowl. Wondering about the oil? Don't worry — we'll do that in Step 4.

Step 3

Toss gently with clean hands or salad tongs to make sure the leaves are coated equally.

Step 4

Taste to see if you need more vinegar.

If not, add a light drizzle of olive oil and toss again until the leaves are coated equally. The key is to make sure the salad is lightly coated — not wet or drippy.

Step 5

Garnish with sea salt, freshly ground pepper and chopped nuts, and serve.
Notes
Need more ideas for tasty salads? Sign up for my email newsletter and you'll receive my How to Love Salad recipes mini-pack:
Balsamic Sherry Vinaigrette
Ranch Style Tahini Dressing
Spiced Seed Mix
Just click on the button below!