Recipes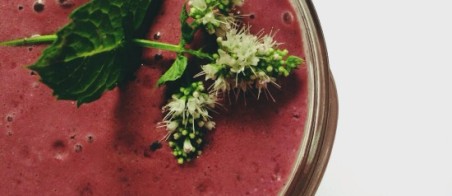 Blackberry Mint Smoothie
Blackberries are packed with antioxidants that fight cancer and reduce inflammation. They're also great for our skin — their special antioxidants prevent free radicals from forming wrinkles, and the Vitamin E in blackberries helps keep skin looking radiant and healthy.
Ingredients
For Fiber: 1 ½ cups blackberries, frozen
Also for Fiber: ½ cucumber, peeled and chopped
For Protein: 6 tablespoons of hemp seed or organic, plant-based protein powder of choice
For Healthy Fats: 1/2 avocado, peeled and chopped
1 cup organic, unsweetened almond milk (or water)
1 cup filtered water
1/2 banana, frozen
a few sprigs of fresh mint
1/2 teaspoon vanilla extract
1/2 cup of ice, optional
Directions
Step 1

Place ingredients into blender, adding frozen fruit and ice last.

Step 2

Process until creamy and smooth. Add water a quarter-cup at a time if you want a thinner consistency.

Step 3

Serve immediately or store some in fridge for later. Salud!