Recipes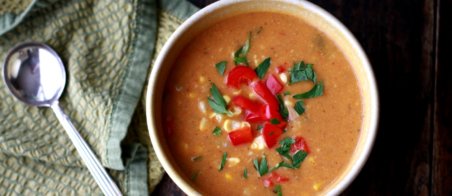 Corn and Red Pepper Chowder | dairy free, gluten free, plant based
This is a great way to celebrate corn season. Ideally, look for organic and/or non-GMO corn at the market. You can also use frozen corn, but use fresh — if available — for optimal flavor and texture.
This soup is creamy and delicious, without relying on the flour (gluten) and cream (dairy) used in traditional chowder recipes. And it's full of smoky-sweet flavor, thanks to a blend of smoked paprika, chipotle powder, and cumin.
The recipe was inspired by this recipe on Love and Lemons.
Ingredients
2 tablespoons avocado oil
1/2 large white onion, chopped (about 1/2 cup)
2 stalks of celery, diced
2 cloves garlic (minced), feel free to add more
3 ears organic corn (kernels sliced off; save some for garnish)
1 red bell pepper, cored and diced (save a tablespoon or two for garnish)
1 yukon gold potato: scrubbed and chopped (no need to peel)
½ teaspoon smoked paprika
1/4 teaspoon celery seeds
1/4 teaspoon chipotle powder
1/4 teaspoon cumin
2 cups low sodium vegetable broth
1 can light coconut milk (the culinary kind, in a can)
1-2 tablespoons nutritional yeast for a cheesy flavor (optional)
1 tablespoon sherry vinegar, or white wine vinegar
Sea salt and ground black pepper
2-3 green onions, sliced (for garnish)
Directions
Step 1

Heat the avocado oil in a large dutch oven over medium heat. Add the onion and a few pinches of salt. Cook until soft, then add the garlic, celery, and potatoes. Stir and sauté for a few minutes, until the potatoes soften.

Step 2

Add the corn kernels, chopped red pepper, paprika, celery seeds, chipotle powder, cumin, black pepper, nutritional yeast (if using), and stir. Sauté for a couple of minutes, then stir in the vegetable broth and coconut milk.

Step 3

Cover and simmer gently until the potatoes are tender, about 15 more minutes, stirring occasionally.

Remove from heat, and let the soup cool for 5-10 minutes. Then transfer half the soup to a blender. Remove the center of the lid and press a folded kitchen towel over the hole while you blend. This will help the steam escape, and prevent any messy soup explosions!

You could also use an immersion blender for this step.

Blend until creamy then return it back to the pot. Stir in the sherry vinegar.

Step 4

Taste and adjust seasonings. Garnish with reserved corn kernels, red pepper, and chopped green onion.
Notes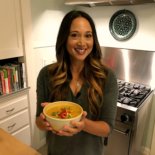 Remember to tag me on Instagram if you try the recipe.