Recipes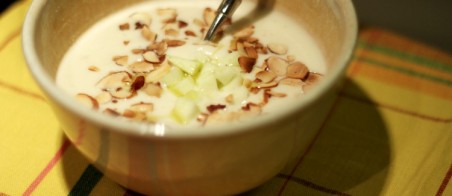 Creamy Cauliflower Soup with Apple + Almond
I know kale gets all of the glory these days, but cauliflower is equally impressive. There are a dozen studies linking cauliflower-containing diets to the prevention of certain kinds of cancer including: bladder cancer, breast cancer, colon cancer, prostate cancer, and ovarian cancer.
Cauliflower also helps support the body's detoxification systems, and it helps soothe inflammation in the body.
One of my favorite ways to enjoy cauliflower is in a soup. Once it cooks, it purées into creamy deliciousness. Make a big batch on the weekend so you have something healthy and delicious on hand when time and patience is short.
Ingredients
2 tablespoons extra-virgin olive oil, plus some extra for the second pan
1 head cauliflower, core removed, cut into 1-inch florets
2 stalks celery, chopped
1 large onion, chopped
2 granny smith apples — cored, peeled and chopped
2 apples of a different variety — cored, peeled and chopped
1 bay leaf
2 quarts of organic, low-sodium vegetable or chicken broth
1/4 cup raw cashews
1 tablespoon tahini
1/4 teaspoon freshly ground white pepper
kosher salt
1/4 sliced almonds, toasted lightly (for garnish)
1/2 cup of diced granny smith apple (for garnish)
coarse salt to finish
high quality olive oil, for drizzling
Directions
Step 1

Place a large stockpot over medium heat. Drizzle the olive oil into the pan and heat for a minute. Add the cauliflower and sauté for a few minutes until soft — but don't let it brown.

Step 2

Then add the stock and bay leaf, bring to a boil, and reduce heat and simmer for about 20 minutes, until the cauliflower is fairly tender.

Step 3

After you get the cauliflower going, heat a separate pan over medium heat and drizzle some olive oil into the pan. Add the chopped onion and chopped celery with a couple pinches of salt; cook until the vegetables are soft and sweet, 15 to 20 minutes.

Step 4

Stir in the apples and cook until the apples are soft and cooked through, about 10 minutes longer.

Step 5

Add the onion-celery-apple mixture to the stockpot containing the cauliflower and broth. Then, add the cashews and tahini, and give it all a stir. Simmer for another 15 minutes.

Step 6

Let the soup sit off heat for a few minutes to cool down. Remove the bay leaf. Purée with an immersion blender or using a regular blender, in batches.

Step 7

Thin to desired consistency with extra broth or water. Add white pepper and additional salt, if needed.

Step 8

Garnish with a pinch of coarse sea salt, the sliced almonds, some diced apple and a drizzle of good olive oil. You can store the extra in the fridge for about 3 days.