Recipes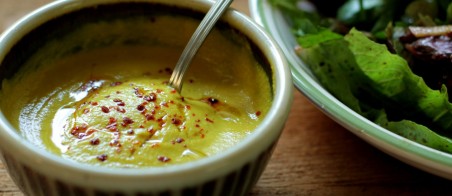 Curried Cauliflower Soup
Turmeric and ginger both reduce inflammation in the body — both have very healing and soothing properties, and they help boost the immune system during cold-and-flu season.
And as for cauliflower — well, what doesn't it do?
Cauliflower is well known for its cancer-fighting antioxidants, and it's also high in vitamin C, as well as glucosinolates, which power detox processes in the body.
Cauliflower is delicious roasted (tastes like french fries!), and here in this silky, satisfying soup.
Ingredients
2 tablespoons extra virgin olive oil
½ medium onion, diced
2 cloves garlic, sliced thinly
1 medium/large head of organic cauliflower, cut into 2-inch chunks
1 tablespoon curry powder
1 tablespoon ground turmeric
½ teaspoon fresh ginger, grated (or ¼ teaspoon powdered)
4 cups filtered water (or homemade/low sodium broth of choice)
¼ cup raw cashews
2 tablespoons sesame seeds OR 1 tablespoon tahini
¼ avocado
sea salt and ground pepper to taste
chopped cilantro for garnish (optional)
On the side: lemon wedges, Aleppo pepper, red chili flakes, etc.
Directions
Step 1

Heat the oil in a medium soup pot over medium heat. Add the onion and sauté until translucent but not browned — about 5-10 minutes.

Step 2

Toss in the garlic, curry powder, turmeric, and ginger; stir for a minute so the garlic won't burn.

Step 3

Then add 4 cups water and the cauliflower, cashews, and sesame seeds (or tahini). Bring to a boil, reduce the heat to low, and simmer for 10-15 minutes, or until the cauliflower is tender. Let cool for 5 minutes.

Step 4

Working in batches, pour the soup into a blender. Remove the hole that's in the center of the blender lid so steam can escape during the blending process. Cover the lid with a towel (hot liquid tends to erupt), and blend on high. Add the avocado to one of these batches.

Step 5

Return the soup to the pot and warm gently to desired temperature. Season with salt and pepper to taste.

Step 6

Ladle into bowls and garnish with the cilantro. You can also drizzle with some good extra virgin olive oil — lemon-infused olive oil is excellent here.

Step 7

Serve with lemon wedges, sea salt, and chili flakes on the side so people can season according to preference.
Notes
I like to make a big batch of this on the weekend so I can enjoy a cup of soup with my lunchtime salads during the week.