Recipes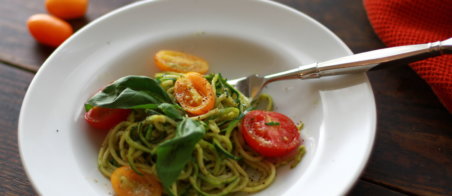 Dairy Free Pesto with Zucchini Noodles
You know what? Pesto tastes just as good without the cheese. Seriously. Especially when you use marcona almonds instead of pine nuts. Marcona almonds add tons of flavor to this classic combination of basil and garlic.
This recipe is inspired by Minimalist Baker.
Ingredients
2 cups fresh basil leaves, packed (stems removed), plus a few sprigs for garnish
2-3 cloves garlic, chopped
1/4 cup marcona almonds or pistachios
Juice from one lemon
1/4 cup extra virgin olive oil
1/2 teaspoon of sea salt
a couple of tablespoons of water
OPTIONAL: 1 tablespoon nutritional yeast
freshly ground pepper to taste
2 zucchini, processed through a spiralizer
a drizzle of avocado oil, for sautéing the zucchini
1 cup of cherry tomatoes, halved
Directions
Step 1

First, prepare the zucchini. Either purchase zucchini noodles from the store, or process whole zucchini through a spiralizer at home. Cut off the ends, and run through the spiralizer according to instructions.

Step 2

To a food processor, add the basil, garlic, nuts, lemon juice, nutritional yeast (if using), and sea salt. Process until a loose paste forms. Season to taste with sea salt and ground pepper.

Step 3

Through the hole in the top of the food processor lid, stream in the olive oil a little at a time while blending. Pause to scrape down the sides as needed. Then add the water 1 tablespoon at a time until you reach desired consistency. Pour into a glass container with an airtight lid; the pesto should keep in the refrigerator for 5-7 days.

Step 4

To a large skillet, heat the avocado oil. Then, add the zucchini noodles. Sauté until crisp tender. Add the cherry tomatoes. Then, add a few tablespoons of the pesto. Stir gently until combined, and heated through, then pile onto a plate and enjoy.
Notes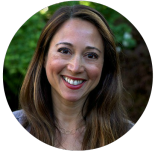 Remember to tag me on Instagram if you try the recipe.