Recipes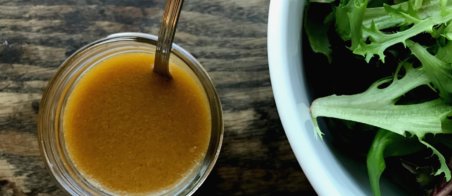 Everyday Vinaigrette
This is my go-to salad dressing. I usually make a batch on Sunday, so that I can use it for salads all week.
Feel free to use your vinegar of choice. My favorites include a high quality balsamic, sherry, or fig vinegar. When I'm really feeling fancy, I might bust out something really special, like Banyuls vinegar. It's made from sweet wine in the Banyuls region of France. It's not cheap, but a bottle will last you a long time. Look for Banyuls vinegar at gourmet markets (i.e. Providore Fine Foods in Portland, OR), or online.
Generally speaking, the ratio for acid (lemon juice, vinegar, etc.) to oil is 1:3. So, I generally use about 1/3 cup of vinegar and 2/3 cup of olive oil.
Ingredients
2 tablespoons fresh squeezed lemon juice
about ¼ cup vinegar of choice: apple cider, balsamic, sherry, fig, or Banyuls — add to the lemon juice until you have 1/3 cup of liquid total
1 tablespoon dijon mustard
1/4 teaspoon granulated garlic
1/2 teaspoon salt
a few grinds of black pepper, to taste
1 teaspoon honey (or 2 drops of liquid stevia)
2/3 cup of extra virgin olive oil
Directions
Step 1

In a small bowl, whisk ingredients well. Or, pour all ingredients into a glass mason jar with a tight lid and shake vigorously.

Step 2

Pour into a glass bottle or mason jar and keep for a week in the fridge.