Recipes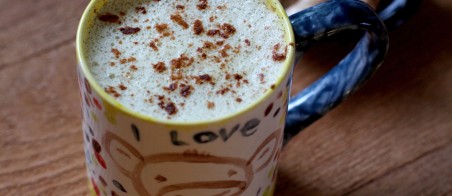 Healing Vanilla "Latte"
Sometimes, you need something more substantial than a cup of tea in the morning — especially if you're transitioning away from a longstanding caffeine/latte habit. This healing latte-style beverage is warm and satisfying, and it's infused with anti-inflammatory ingredients such as turmeric and ginger. I've incorporated vanilla bean for that "french vanilla" essence, and coconut butter for extra creaminess. Warmed on the stove and whipped in the blender, this healthy latte will have you feeling restored and energized in no time — without caffeine's crash.
Ingredients
12 ounces full fat coconut milk
1 heaping teaspoon grated ginger
1 teaspoon grated fresh turmeric, or 1/2 teaspoon ground turmeric
1 vanilla bean (look for this in the bulk/spices section at the store) — or substitute with 1/2 teaspoon vanilla extract
1-2 teaspoons raw honey or a couple drops of liquid stevia
1 tablespoon coconut butter (the kind that includes the coconut meat, which is different from coconut oil)
1 cinnamon stick
ground cinnamon for garnish
Directions
Step 1

Place the coconut milk, ginger and turmeric in a small pot. Don't turn on the heat just yet.

Step 2

Prep the vanilla bean: split the bean lengthwise and lay the two halves open-faced on the cutting board. Work on one half at a time, using one hand to hold the bean against the cutting board while you use a knife to scrape the length of the bean, collecting a resin-like substance on the surface of your knife. Tip: you want the vanilla bean "paste" to be on the knife, not all over your fingers.

Step 3

Once you have collected the resin from the bean halves, scrape it into the pot with the coconut milk, ginger and turmeric. Add the scraped-out vanilla bean to the mixture as well for extra flavor. Gently warm over medium low heat, stirring occasionally.

Step 4

Continue to heat for about 10-15 minutes so the flavors are infused into the coconut milk. Take care not to boil the mixture — you want a gentle simmer.

Step 5

Remove the pot from heat, and strain the liquid into a measuring cup. Discard the solids.

Step 6

Add the warm liquid to your blender, and spoon in the honey and coconut butter (the hot liquid will melt the coconut butter). Blend on high until creamy and frothy.

Step 7

Pour into a mug and garnish with cinnamon stick and/or ground cinnamon. Salud!