Recipes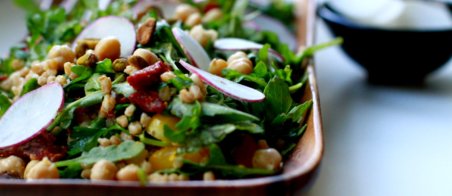 Mediterranean Farro Salad with Arugula
Get ready for a crowd-pleaser of a salad — great for potlucks and parties!
To read more about farro, and see the video for this recipe, click here.
Ingredients
1 cup farro (or you can use brown rice to make this recipe gluten free)
1 cup apple cider (or apple juice, plus 1 tablespoon apple cider vinegar)
2 cups filtered water
2 teaspoons kosher salt, more as needed
2 bay leaves
1/4 cup tahini
1/4 cup freshly squeezed lemon juice
1/2 teaspoon granulated garlic
a few tablespoons of hot water
2 tablespoons extra virgin olive oil
1/2 cup nutritional yeast
1/2 cup pistachio nuts, chopped
A few handfuls of arugula
Optional: 1 can garbanzo beans, drained and rinsed
1 cup of parsley and/or basil leaves, torn
1/2 cup mint leaves, torn
1/2 cup sun dried tomatoes, chopped — or 1 cup sliced cherry tomatoes... or both!
⅓ cup thinly sliced radish
Flaky sea salt for finishing, like Jacobsen's Salt Co, made here in Oregon!
Directions
Step 1

First, prepare the farro according to package instructions. I use the 10-Minute Farro (parboiled) from Trader Joe's, so it only takes... 10 minutes!

If using regular or parboiled farro, here's how to cook it: place in a medium saucepan along with the apple cider vinegar, filtered water and bay leaves. Bring to a simmer. Simmer until farro is tender and liquid evaporates — about 10 minutes if using parboiled (or about 30 minutes if using regular farro). If all the liquid evaporates before the farro is tender, add a little more water.

Let farro cool, then discard bay leaves.

NOTE: If using brown rice, cook according to package instructions, using filtered water only (no apple cider vinegar). Once cooked, set aside to cool.

Step 2

While the farro is cooking, prepare the dressing. In a small bowl, whisk together the tahini, lemon juice, and granulated garlic. Whisk in a few tablespoons of hot water until the tahini is incorporated and the mixture is smooth. Then, whisk in the olive oil. Season with salt and pepper, to taste.

Step 3

Pour some of the dressing into a large salad bowl. Add the cooked farro, chickpeas (if using), nutritional yeast, and chopped pistachios. Mix well with a rubber spatula.

To prep ahead: this salad base will keep for up to 4 hours at room temperature or overnight in the refrigerator (bring to room temperature before serving).

Step 4

Just before serving, fold in the arugula, herbs, and tomatoes. Taste, and drizzle in more dressing if needed.

Garnish with the sliced radish, a sprinkle of nutritional yeast, and a few pinches of flaky sea salt. Enjoy!