Today's post is all about how to cook and use farro. You know, that trendy (albeit ancient) grain that's turning up in fancy restaurant salads and dishes.
First, let's start with a video from my latest healthy eating segment on More Good Day Oregon.
Video: Mediterranean Farro Salad
What is farro, anyway?
Farro is actually an ancient variety of wheat. I like using farro because it has a nutty flavor and chewy texture — and it contains less gluten than modern day strains of wheat.
However, it's definitely NOT gluten free. So if you're gluten sensitive, you could use short grain brown rice here instead of farro.
I've been using farro a lot lately — especially since my friend Cary turned me on to the 10-Minute Farro from Trader Joe's. Now watch, as soon as this post is published, TJ's will probably stop carrying this miracle ingredient.
Because that's how it goes with Trader Joe's, right? The last time I was there I think I bought 6 packages. Hoarder! I would have bought more, too, but I felt a little self-conscious about leaving the shelf bare. Silly me. I'm sure I'll regret this at some point.
Anyway, back to the farro salad recipe. Get ready for a crowd-pleaser of a salad, my friend — it's great for potlucks and parties. People always eat it up, even when it's sitting next to a perfectly good pizza.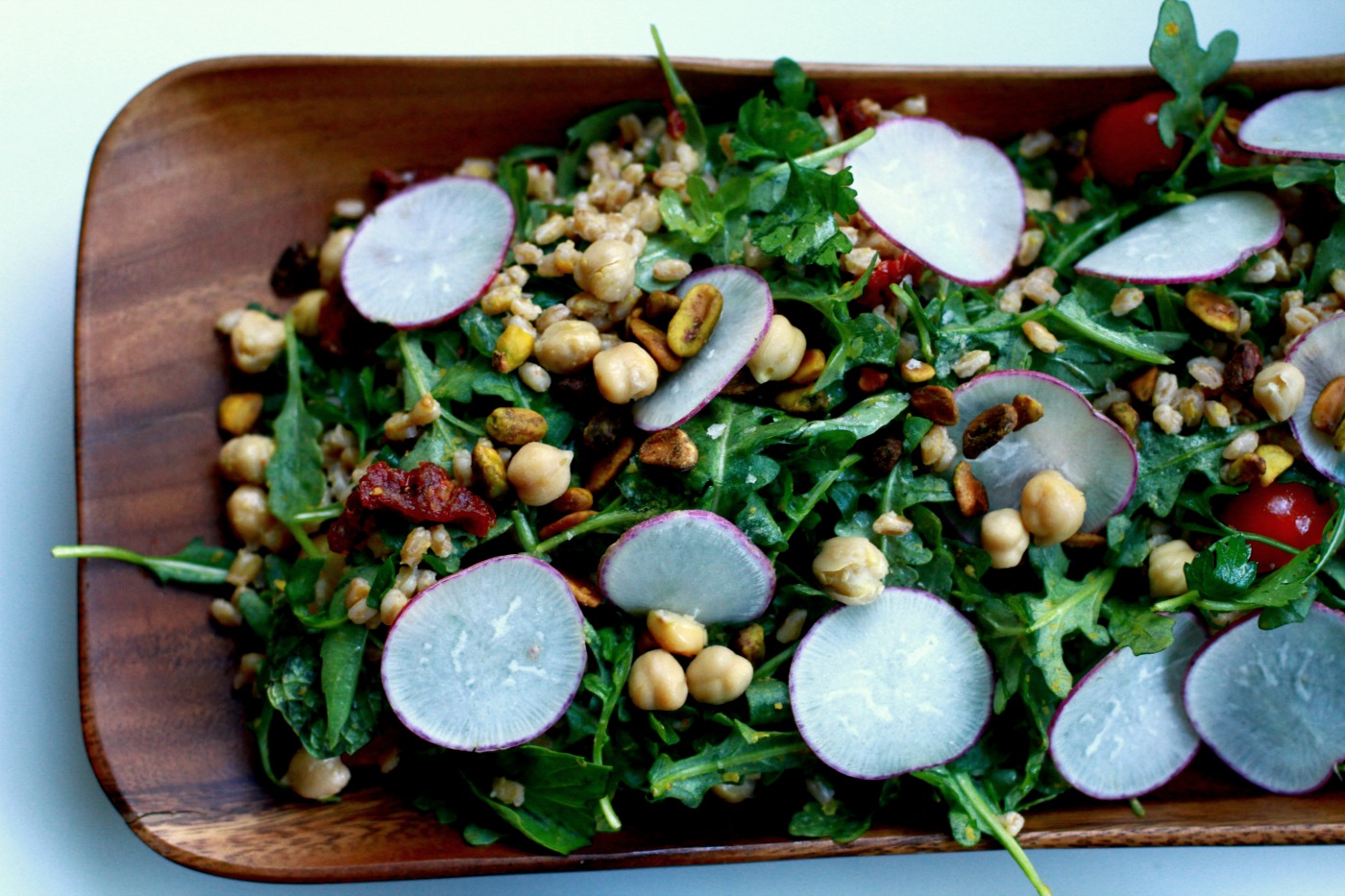 How to infuse farro with flavor
This recipe is an adaptation of Charlie Bird's Farro Salad in the New York Times.
I vegan-ized it, then paired it with a lemony tahini dressing. Why tahini? Because I fell in love with the combination of wheatberries and tahini (plus chickpeas) when I had it stuffed into a pita at the Tastebud food cart at the Portland State Farmers Market years ago. I'm still dreaming about it, years later!
Funny story — when I first started making this recipe, I misread it and used a combination of apple cider VINEGAR and water to cook the grains, which isn't what the original New York Times recipe calls for. What you're really supposed to use is a combination of apple CIDER and water. I didn't even catch the error until a reader emailed me about it.
Oopsies!
Here's the good news. Either way — cider or cider vinegar — the farro still turns out delicious. But I think using cider is probably the better way to go. So you decide what works best for you, and whatever you have in the pantry.
I know that's not what a New York chef or exacting home cook would say, but that's how I roll. I'm all about practicality over perfection in most cases, especially in the kitchen.
Maybe you can relate?
Mediterranean Farro Salad: the nutrition details
It turns out that farro is higher in protein and fiber than brown rice.
It's also a good source of minerals such as magnesium (muscle and nerve function) and niacin (lowers LDL cholesterol and supports healthy brain function).
Here are some other fun facts about the nutrition in this delicious Mediterranean Farro Salad:
Tahini is a paste made from sesame seeds, which are high in calcium — great plant-based source of calcium.
Arugula is both a leafy green and cruciferous vegetable, so it's a powerful cancer and disease fighter.
Radish is small but mighty: high in vitamin C and fiber.
Other ways to use farro
Farro's actually quite versatile. You can use it as you would other grains such as brown rice, including:
Use as the foundation for a grain bowl
Add to soups and stews
Warm cooked farro with some nut milk, cinnamon and maple syrup for a breakfast porridge
Season the farro with some dressing and add to a wrap
Throw a scoop onto green salads for a high-fiber "good" carb
I hope today's post has helped you figure out how to use farro (or short grain brown rice, if you're gluten free), and that you'll hustle on over to Trader Joe's so you can make this salad on a busy weeknight.
I also hope that you'll make this salad for your next party or potluck. It looks gorgeous on the table, and people will go nuts for it. And bonus: you'll be helping people get a nutrition boost, even while they're at a party where there are sure to be other (ahem) less healthy options sharing the buffet table.
For the recipe, just click here or on the green box below.
If you try the recipe, tag me over on Instagram at @mospo. I'd love to hear from you!