Recipes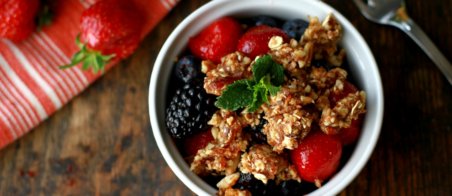 Mixed Berry Crumble Recipe | Raw, Gluten Free, Vegan
This Mixed Berry Crumble is the perfect no-fuss dessert for berry season, and hot summer nights.
This recipe is adapted from this Raw Peach Cobbler.
Ingredients
1/2 cup pitted dates, roughly chopped
1/2 cup walnuts
1/2 cup pecans
1/4 cup uncooked rolled oats
1/2 teaspoon ground cinnamon
a pinch of sea salt or Himalayan pink salt
6 cups of mixed berries: strawberries, raspberries, blueberries
1 tablespoon maple syrup
Directions
Step 1

Wash and dry all the berries, then slice the strawberries into bite sized pieces. In a large bowl, mix the sliced strawberries wth the other washed berries. Toss with maple syrup, and set aside.

Step 2

Put oats, pecans, walnuts, dates, cinnamon, and salt into a food processor and pulse until coarsely ground.

Step 3

Place the berries into a medium sized baking dish. Scatter nut mixture over the berries and serve immediately, or chill until ready to serve. This dish is best enjoyed the day you prepare it.

This recipe is perfect with a drizzle of my MAPLE CASHEW CREAM. See link below for recipe.
Notes
Related recipe: MAPLE CASHEW CREAM
Click below to watch the video for No-Bake Mixed Berry Crumble…