Recipes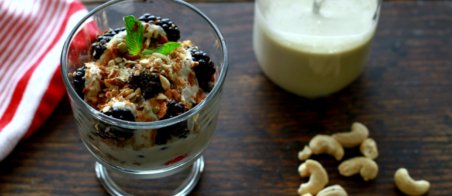 Blackberry Parfait with Maple Cashew Cream
Raw cashews, blended with water, serve as the base for many a plant-based, dairy-free sauce. This master sauce is so versatile, and is often used as a base for lush and savory sauces such as my Jalapeño Cashew Cream and Vegan Chipotle Lava Sauce.
The cashew base can also be made into a sweet version, which is lovely spooned over berries, or incorporated into raw desserts. For this recipe, I add orange zest and cardamom to make it extra special.
Ingredients
1 cup of raw, unsalted cashews, soaked in filtered water for about 4 hours
Enough filtered water to cover the cashews, about half a cup
1-3 tablespoons of pure maple syrup
a pinch of sea salt or Himalayan pink salt
1 teaspoon of vanilla extract
a pinch of orange zest
1/4 teaspoon of cardamom
1/2 cup blackberries
1/2 cup blueberries
GARNISH — with toasted coconut and nuts of choice
Directions
Step 1

Drain and rinse the soaked cashews. Add to the blender, and pour in just enough water to cover the cashews, and to facilitate the blending process.

Step 2

Then, add the maple syrup. Start with a tablespoon. You can always add more if desired.

Step 3

Now, add the pinch of salt, vanilla, orange zest, and cardamom. Give everything a blend, until creamy and smooth.

Step 4

Taste, and add more maple syrup if desired. Blend again.

Step 5

Spoon some of the cream into a parfait glass or small jar. Top with a layer of berries, and then add a layer of the cream. Then, add another layer of berries. Garnish with chopped nuts, coconut, or toppings of choice, and serve. Store leftover cream in the fridge for about 2-3 days.