Recipes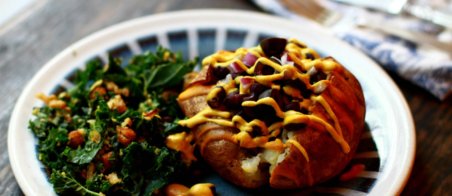 Vegan Chipotle Lava Sauce for Chili, Nachos and Burritos
Many of my clients are addicted to cheese — especially the vegetarians. And when they're doing a cleanse with me, they're often surprised by the positive results they see once they take a break from cheese and other dairy products.
Their skin improves, their digestion gets better, they have less bloating, their workouts feel better. And they start to lose some of those stubborn extra pounds that have been hanging around the belly for years.
This Vegan Chipotle Lava Sauce definitely takes the sting out of giving up dairy. Made from a cashew base, it's lush and creamy — with a great kick from chipotles in adobo sauce (the kind that come in a can). Word of warning: don't use the whole can, or your head will blow off! You'll probably only need one, depending on how much heat you like.
I use this velvety sauce on baked potatoes, quesadillas, burritos, nachos and chili. Use it anywhere you'd use melted jack cheese — I promise, you won't miss the real thing.
This recipe is inspired by the Cashew Cheese from The Plantpower Way by Rich Roll and Julie Piatt.
Ingredients
1 cup raw cashews, soaked about four hours
2 tablespoons nutritional yeast (usually found in the bulk section)
½ cup of filtered water; add more for desired consistency
¼ cup of white miso paste
Juice from 1 lemon
1 clove garlic, chopped. Feel free to add more if you love garlic!
1 teaspoon ground turmeric
1 teaspoon chili powder
1-2 canned chipotles in adobo sauce or 1 teaspoon of dried chipotle powder. BTW, I mean 1 chile, not the whole can! Start mild — you can always add more.
Sea salt and pepper to taste
1 teaspoon of dried dulse flakes (this sea vegetable is a great source of natural iron and magnesium)
Directions
Step 1

Rinse and drain the cashews. Then, add them to a high-speed blender along with the nutritional yeast, water, miso, lemon juice, garlic, turmeric, chili powder, chipotle, and dulse flakes.

Step 2

Blend until smooth, adding a bit more water if you want a thinner consistency.

Step 3

If you have a Vitamix, you can keep running the blender for about 3 minutes to heat the sauce.

Otherwise, pour the sauce into a small saucepan and heat gently on very low heat. Heat gently, because the sauce will thicken quickly. This should only take a minute or two. Season the sauce with salt and pepper, and enjoy.

Leftovers can be stored in a jar, refrigerated, for several days.