Recipes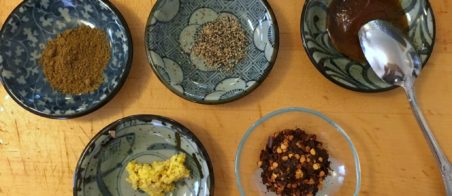 Quick Chickpea Curry
I adore curries, and often make a curry dish at least once a week. I love curries because they're full of deep, satisfying flavors, and you can transform those lonely produce drawer remnants into a delicious one-pot meal.
Plus, I almost always include ginger and turmeric, which are anti-inflammatory super heroes. If you're someone who struggles with inflammation in the body — headaches, joint pain, arthritis, or digestive issues — you might try making ginger and turmeric part of your regular diet.
I usually serve this curry with a scoop of basmati rice, and an array of condiments that the family can use to create their own dish: mango chutney, sliced scallions, cilantro, hot sauce, and pickled vegetables are some of my favorites. I also incorporate greens such as spinach — either steamed and on the side, or tossed into the curry shortly before serving.
Ingredients
1 tablespoons coconut oil or ghee
1/2 of an onion, chopped
2-3 cloves of garlic, pressed
1 tablespoon freshly grated ginger
2 tablespoons curry powder
1 teaspoon cumin
1 teaspoon ground turmeric
a few grinds of black pepper
1 teaspoon bouillon base (I use Better Than Bouillon No-Chicken Base)
2 tablespoons double concentrated tomato paste (it comes in a tube, like toothpaste)
1 can coconut milk (15 ounces)
1 cup hot water
1 cup mushrooms, quartered
1 zucchini, chopped
2 cans chickpeas, rinsed and drained
A few handfuls of baby spinach
Sea salt and pepper, to taste
OPTIONAL: Condiments and garnishes of choice — avocado, toasted coconut, mango chutney, hot sauce, etc.
Directions
Step 1

Heat the coconut oil or ghee in a large pan over medium heat. When the oil or ghee has melted, add the onion. Sauté until the onions are translucent and starting to brown, stirring occasionally. Then, stir in the garlic and cook for another minute or so.

Step 2

Next, stir in the spices and aromatics: ginger, curry powder, cumin, turmeric, and black pepper. Stir until the onions and garlic are coated with the spices.

Step 3

Add the bouillon base and tomato paste, and stir.

Step 4

Add the coconut milk, water, mushrooms, and zucchini, and give everything a good stir. Let the mixture simmer for about 10 minutes, until the vegetables are tender.

Step 5

Add the chickpeas. Stir and simmer until the chickpeas are warmed through.

Step 6

Just before serving, add a few handfuls of baby spinach. Stir, and cook until the spinach has wilted.

Step 7

Adjust for seasoning, and serve with your choice of rice and condiments.
Notes
Looking for more recipes, as well as nutrition and healthy lifestyle coaching?
Check out my online program, Camp Kale.