Recipes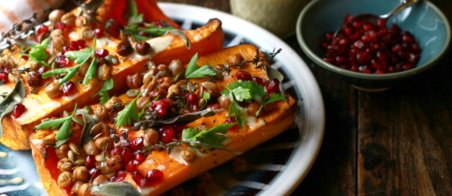 Roasted Butternut Squash with Maple Tahini Sauce
Are you looking for a simple to prepare — but fancy looking — dish to make for your plant-based family and friends? This Roasted Butternut Squash with Maple Tahini Sauce is the dish you're looking for!
It's delicious and slightly sweet, and looks gorgeous on the dinner party table. If you have leftovers, you could also put a few wedges onto a green salad for an easy weekday lunch.
Butternut squash, as well as the other winter squash varieties, is high in beta carotene, which the body converts to vitamin A for healthy hair, skin, and immune system. This makes it a great dish to prepare for those long winter months, which can be tough on the skin — and tough on the immune system as well.
This recipe is adapted from this recipe on the Feedfeed, which feature an amazing tahini from Seed and Mill. For years, I've been using regular old tahini from the grocery store. But once I tasted Seed and Mill, I couldn't go back. It's well worth special ordering it online. And if you do, be sure to try a wedge of Seed and Mill halvah — it's incredibly delicious and completely crave-worthy.
Ingredients
2 butternut squash
2 tablespoons avocado oil
5 sprigs of fresh sage
5 sprigs of fresh thyme
1 cup of chickpeas, drained and rinsed
1/4 cup tahini, stirred well
1 tablespoon maple syrup
2 tablespoons fresh lemon juice
2 tablespoons of filtered water, and more if needed for desired consistency
2 tablespoons extra virgin olive oil
ground pepper and sea salt to taste
1/2 cup of pomegranate seeds
1/2 cup of chopped pistachios
1/2 cup of Italian parsley (or mint), chopped
Directions
Step 1

Preheat the oven 375℉ and line a pan with parchment paper.

Step 2

Prepare the squash: rinse and dry the whole squash to remove any dirt, etc. Then, trim off the ends. Peel the skin off with a carrot peeler.

Then, holding the squash vertically on a cutting board, cut the squash in half, lengthwise. Scoop out and discard the seeds.

Step 3

Place the squash onto the prepared pan and top with thyme, sage, and chickpeas. Drizzle everything with avocado oil, salt, and pepper. Bake for 45-60 minutes or until cooked through. The squash will be fork-tender, and golden brown along the edges.

Step 4

For the dressing, whisk together the tahini, maple syrup, lemon juice, salt and pepper. Add 1 to 2 tbsp cold water to loosen the dressing. Then, stream in the olive oil while whisking. Keep whisking until everything is smooth and silky.

Step 5

Drizzle the tahini dressing over the cooked squash, and garnish with pomegranate seeds, parsley, and pistachios.
Notes
Remember to tag me on Instagram if you try the recipe.