Recipes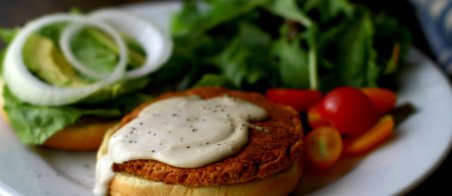 Savory Chickpea Burger | Plant based, GF, DF
Eating more plant-based can sometimes be a challenge. Especially when it's barbecue season and you're craving a burger.
This Savory Chickpea Burger recipe will help you satisfy those cravings, and provide plenty of healthy nutrients, protein, and fiber as well. Either serve it on a bun, or over salad greens with a dollop of Vegenaise or some homemade tahini sauce.
This recipe was inspired by this one from Yum Universe and No Meat Athlete. 
Ingredients
2 teaspoons avocado oil, divided
1/2 yellow onion, diced
2 cloves garlic, minced
1/2 cup celery, diced
1/2 cup red pepper, diced
1 1/2 cups cooked chickpeas (one 15-ounce can), drained and rinsed
1 cup steamed sweet potato, diced
1/4 cup gluten-free oats
1 tbsp dijon mustard
1 tbsp vegan Worcestershire
1 tbsp coconut aminos or tamari
juice from half a lemon
1/2 teaspoon smoked paprika
1 teaspoon granulated garlic
1 teaspoon dried onion flakes
1/2 cup almond flour
Salt and pepper to taste
Serve with gluten free buns and condiments, or crumble over a salad
Directions
Step 1

Heat 1 teaspoon of the avocado oil in a large pan over medium heat. Sauté the onion, garlic, celery and red pepper until softened, about 5 minutes.

Step 2

Transfer the cooked veggies to a food processor. Add the remaining ingredients and pulse about 10 times until combined, but still chunky. Don't over-process, or you'll end up with hummus :)

Step 3

Divide the "dough" into six sections. Using clean hands, roll each section into a ball, then flatten into patties.

Step 4

Place the patties on a foil-lined baking sheet and refrigerate or freeze for 15 minutes to firm up. In the meantime, preheat oven to 375 degrees F.

Step 5

OPTIONAL STEP BEFORE BAKING: For a little extra crust on the outside, before baking heat a large non-stick skillet over medium to medium-high heat and add the remaining teaspoon of avocado oil. Swirl to coat pan, then add the patties. Carefully flip once golden brown – about 3-4 minutes - and then cook on the other side until golden brown as well - 3-4 more minutes. Return to baking sheet to continue baking. Flip gently — they're not as sturdy as ground beef.

If you're not going to pan fry them first, just skip ahead to the next step.

Step 6

Transfer the patties onto a baking sheet lined with parchment paper. Then, pop them into the oven. Bake for a total of 30-40 minutes, flipping once at the halfway point for even cooking.

Step 7

Eat plain or with your favorite gluten-free bun. Or, crumble the burger over a salad.
Notes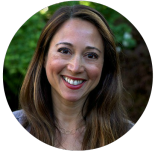 Remember to tag me on Instagram if you try the recipe.