Recipes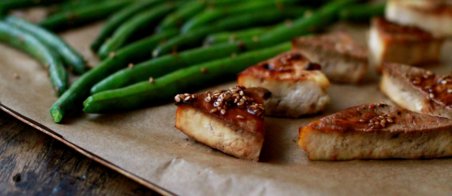 Sheet Pan Roasted Tofu and Green Beans with Sesame Glaze
Sheet pan dinners are all the rage these days — they can be a lifesaver on busy weeknights.
Ingredients
12 ounces extra-firm tofu, drained and patted dry (see instructions below)
2 tablespoons reduced-sodium soy sauce or tamari
3 cloves garlic, minced
1 tablespoon honey
1 teaspoon pressed ginger juice (or 1 tablespoon grated ginger)
1 tablespoon sesame seeds, plus additional for garnish
1 pound green beans, ends trimmed
1/4 teaspoon red pepper flakes (optional)
Freshly ground black pepper
Garnish with 1 scallion, thinly sliced and a sprinkle of sesame seeds
Directions
Step 1

Arrange a rack in the middle of the oven and heat to 400°F. Line a baking sheet with parchment paper.

Step 2

Meanwhile, line a large plate with a clean kitchen towel (or paper towels), and place the tofu on top. Cover with another towel (or paper towels), and place a heavy item on top (such as a cast iron pan), pressing down on the tofu. Let rest for at least 10 to 30 minutes.

Step 3

Whisk the soy sauce, garlic, honey, ginger juice (or grated ginger), and sesame seeds together in a small bowl; set aside.

Step 4

Cut the tofu into triangles and place in a single layer on one side of the prepared baking sheet. Drizzle with the soy sauce mixture, reserving some for the beans. Bake until golden-brown on the bottom, 12 to 13 minutes.

Step 5

Flip the tofu. Add the green beans onto the opposite side of the baking sheet in a single layer. Drizzle with the soy sauce mixture and sprinkle with the red pepper flakes. Season with ground pepper.

Step 6

Return to the oven and bake until the tofu is golden-brown on the second side, 10 to 12 minutes more. Sprinkle with the sliced scallion, and additional sesame seeds, and serve.

Leftovers will store in an airtight container in the fridge for about 4 days. Tip: make a double batch on Sunday, so you'll have leftovers and lunch for later in the week.
Notes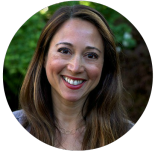 Remember to tag me on Instagram if you try the recipe.