Recipes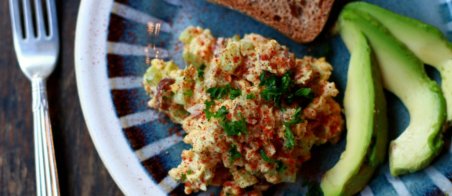 Smashed Chickpea Salad
Fun health tip: lentils, chickpeas and other legumes — collectively known as pulses — have been shown to reduce cholesterol, reduce risk of stroke, reduce colon cancer risk, stabilize blood sugar levels, feed "good" gut bacteria, reduce bone loss, and support greater bone mineral density. So enjoy often — ideally daily!
When it comes to salad, I need substance — I can't survive on baby greens and grated carrot alone. That's why I often add something hearty to my greens, such as a scoop of hummus, beans, chickpea croutons, or some leftover roasted sweet potato.
This salad is perfect if you enjoy tuna salad — but are avoiding it because of concerns over mercury consumption (if you're pregnant or breastfeeding, etc.).
It's also great if you're transitioning to a more plant-based diet, and you're craving tuna or chicken salad sandwiches.
The consistency and flavors for this salad are very similar to the traditional tuna or chicken salad. Celery, red onion, and mayonnaise (I adore Vegenaise) provide familiar flavors — and I've bumped things up a notch with kalamata olives, dill, and parsley.
Enjoy a scoop on top of your favorite salad greens, tuck it inside a wrap, or enjoy open-faced, with some avocado, on rustic bread.
If you're gluten-free and live here in Portland, try the Seeded loaf from New Cascadia. You can find it at most New Seasons stores and Whole Foods Markets in the Portland area.
Inspiration for this salad came from Oh She Glows and Kris Carr.
Ingredients
1 (15-ounce/425-g) can chickpeas, drained and rinsed
2 stalks celery, finely chopped
2 tablespoons red onion, chopped
1/4 cup kalamata olives, rinsed and thinly sliced
3 tablespoons vegan mayonnaise (I like Veganaise (regular or soy free) and Just Mayo — you'll find these in the refrigerated section). If you're never tried vegan mayo, you're in for a treat!
2 cloves garlic, pressed or minced
1 1/2 teaspoons Dijon mustard
a shake or two of red pepper flakes
1 1/2 to 3 teaspoons fresh lemon juice, to taste
1 teaspoon minced fresh dill
1 tablespoon minced flat leaf parsley
sea salt and black pepper, to taste
a sprinkle of smoked paprika
OPTIONAL — serve with sliced avocado
Directions
Step 1

In a large bowl, mash the chickpeas with a potato masher until the beans are half-smashed and somewhat flaky in texture.

Step 2

Next, add the celery, onion, olives, mayonnaise, garlic, mustard, pepper flakes, and lemon juice. Stir gently until combined.

Step 3

Now, gently fold in the chopped herbs. Season with salt and pepper, to taste.

Step 4

Enjoy with salad greens, scooped onto crackers, or tucked into a wrap or sandwich. Garnish with paprika, and serve with sliced avocado if desired.