Recipes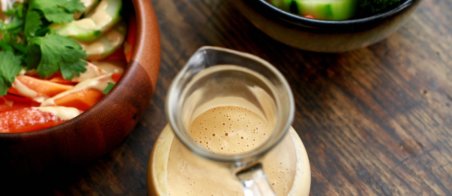 Spicy Peanut Sauce for Bowls, Noodles, and Steamed Veggies
We all know we should be eating more vegetables, but who wants to dig into a bowl of plain steamed vegetables?
Not me!
The key to eating more vegetables is to find a simple preparation that works for your lifestyle and schedule, and then to use spices, condiments, and other flavor boosters to make those vegetables taste good to you. One of the best ways to add flavor to vegetables is to use a tasty sauce.
This Spicy Peanut Sauce is one of my favorites. It comes together really quickly in the blender — or even using a whisk — and it's extremely versatile. Toss it with gluten free spaghetti or soba noodles, and then add steamed veggies on top. Or, use it a dip for sliced carrots, cucumber, and red bell pepper strips.
If you're making this for kiddos, you can reduce the amount of sriracha — or omit it all together.
Ingredients
½ cup creamy peanut butter (preferably organic, no sugar, and no salt)
1 tablespoon freshly grated ginger
2 cloves garlic, pressed or minced
2 tablespoons reduced-sodium soy sauce
1 tablespoon rice wine vinegar
1 lime, juiced
1 tablespoon coconut nectar or maple syrup
a squirt of sriracha hot sauce (or 1/4 teaspoon chili flakes)
1/4 cup water. You may need to use additional water to reach desired consistency.
Directions
Step 1

Warm the water in a kettle until it's hot, but not boiling.

Step 2

Add all of the other ingredients to the blender, then add the hot water.

Step 3

Blend until smooth and creamy. Taste and adjust to preference, adding more tamari for salty flavor, or sriracha for more spice, coconut nectar or maple syrup for more sweetness, etc.

Step 4

If using in a noodle bowl, pour a small amount of the sauce into a large bowl. Add the cooked noodles and vegetables of choice (these can be steamed or raw). Toss gently with the sauce until the noodles and vegetables are lightly coated, adding in more sauce if needed. Divide into individual bowls, and serve with peanut sauce on the side.