Recipes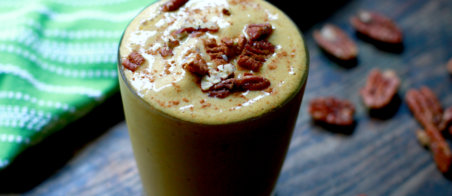 Sweet Potato Pie Smoothie
Let's be honest, the holidays are full of sweet treats and temptation.
That said, I created this smoothie so that you can have something healthier to turn to when you're having a moment. Like an I'm-craving-sugar-so-bad-I-need-a-treat-now! kind of moment.
This Sweet Potato Pie Smoothie is low in refined sugar, and high in nutrients, fiber, and disease-fighting antioxidants. You'll also get a fair amount of protein in this smoothie, due to the addition of hemp seeds.
Bonus points if you add some ground turmeric for anti-inflammatory goodness. According to Dr. Andrew Weil, turmeric contains more than 2 dozen anti-inflammatory compounds — great for anyone dealing with health conditions such as arthritis and joint pain.
Here's what I love about using ingredients such as sweet potato and pumpkin in smoothies — these vegetables are high in beta-carotene, which the body then uses to make vitamin A. Adequate amounts of vitamin A give us healthy skin, hair, and a strong immune system.
And if you're wondering about the use of molasses and maple syrup in this smoothie, here's the deal.
I don't usually use liquid sweeteners (I use whole medjool dates). However, I want this smoothie to feel like a "treat" — decadent enough so that it can help you avoid eating the unhealthier sweets out there such as leftover pie, etc.
By the way, molasses can be enjoyed without guilt — it's high in minerals such as potassium, iron, and magnesium.
We're using a really small amount of maple syrup in this recipe. However, you can omit it altogether and you'll still have one delicious smoothie.
Salud!
Ingredients
2 cups of your favorite unsweetened plant milk
1/4 cup unsweetened sweet potato puree (canned or homemade mashed sweet potato)
2 tablespoons hemp seed
1 teaspoon blackstrap molasses
1 teaspoon vanilla
1-2 teaspoons of pure maple syrup (i.e., doesn't include additional sweeteners such as high fructose corn syrup)
1/2 teaspoon pumpkin pie spice
1/4 teaspoon cinnamon
OPTIONAL: 1/2 teaspoon ground turmeric
1 banana, frozen and in chunks for easier blending
1 cup of ice
OPTIONAL GARNISH: freshly ground nutmeg and chopped pecans
Directions
Step 1

Add all of the ingredients to a high speed blender, adding the frozen banana and ice last. Blend until smooth and creamy, using the blender tamping tool if necessary.

Step 2

Pour into two glasses and serve. Grate a bit of nutmeg over the top, and garnish with chopped pecans (if using). NOTE: I use a microplane to grate the nutmeg.
Notes
I hope you enjoy this recipe for the Sweet Potato Pie Smoothie.
Remember to tag me on Instagram if you try the recipe. I love seeing your kitchen creations!