Recipes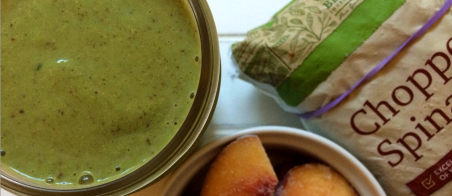 The Cleaner (Green Smoothie)
If you've had a hardcore weekend — in a not-so-healthy way — you need The Cleaner. For background on the inspiration behind The Cleaner, click here. 
You'll definitely want to blend this up for breakfast on Monday morning, and then maybe again on Tuesday and Wednesday — depending on how crazy your weekend was.
Ingredients
2 1/2 cups filtered water
Dark leafies: choose from 2 cups frozen spinach or 1/3 bunch of kale (remove the stems)
1 heart of romaine, chopped
Herbs: a large handful of fresh parsley (Italian or curly) or mint
1/2 cucumber, chopped (if using conventional, remove peel)
1/4 of an avocado
4 tablespoons hemp seeds
2 tablespoons chia seeds
2 teaspoons of your favorite green powder (i.e. Vitamineral Green, spirulina, chlorella)
Frozen fruit of choice: 2 cups of peaches or blueberries
1/2 banana (optional)
Directions
Step 1

Add the water and ingredients to a high-speed blender — the frozen fruit should go in last.

Step 2

Blend until smooth and serve.
Notes
This recipe comes courtesy of Camp Kale, my online nutrition and lifestyle coaching program.