Recipes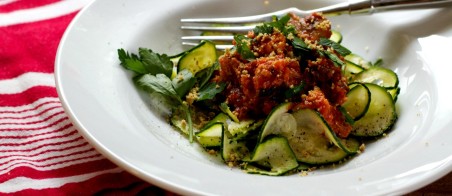 Turkey Bolognese with Zucchini Noodles
You'll need either a spiralizer or julienne grater to make the noodles. Both are easily found in a kitchen goods store or on Amazon.com. You could also use a vegetable peeler, but it's much faster when you use a spiralizer.
Ingredients
2 tablespoons coconut or extra virgin olive oil, plus 2 more for the sauce
6 organic zucchini
1 clove garlic, minced — plus 4 cloves minced for the sauce
1 large yellow onion, chopped
½ cup carrot, chopped
2 stalks celery, chopped
a pinch of red chile flakes (optional)
1 pound ground turkey
1 pound mild Italian sausage (chicken) – buy in bulk or remove casings from actual raw sausages
1 cup cauliflower, chopped
1 cup diced button or shiitake mushrooms
(1) 24-ounce jar of Rao's Marinara Sauce (or other brand that doesn't include sugar or preservatives)
1 ½ teaspoons dried oregano
2 tablespoons double-concentrated tomato paste (the kind that comes in a toothpaste-like tube)
1 cup unsweetened pumpkin puree
2 bay leaves
1-2 cups of low sodium, gluten free broth (or homemade)
Additional sea salt and black pepper to taste
Italian parsley, chopped (for garnish)
Non dairy "parmesan" (optional) — store bought or homemade
Directions
Step 1

First, get the sauce going: heat 2 tablespoons of coconut or olive oil in a large pot or Dutch oven. Add the onion, carrots, and celery— sauté for 10-15 minutes, until the onion is tender and starting to brown.

Step 2

Throw in the garlic (the 4 cloves, minced) and red pepper flakes, and cook for about a minute, stirring.

Step 3

Crumble the turkey and chicken sausage into the pot and sauté, stirring frequently, until cooked through.

Step 4

Add in the cauliflower, mushrooms, marinara sauce, pumpkin, tomato paste, oregano, bay leaves, and 1 cup of the broth.

Step 5

Bring to a boil, then reduce heat and simmer for 30-40 minutes, stirring occasionally. Add extra broth for a thinner consistency if desired. Discard the bay leaves and adjust seasonings for salt and pepper.

Step 6

When the sauce is done, prepare the noodles. Run the zucchini through the spiralizer to make vermicelli-style noodles.

Step 7

Warm the olive oil in a wide pan for a minute, then add the minced clove of garlic. Stir for a minute so it won't burn.

Step 8

Add the noodles and cook for a minute or two, until the zucchini are softened but still somewhat al dente (they can turn mushy quickly). Stir to make sure the noodles are coated with olive oil.

Step 9

Arrange noodles onto plates, and ladle sauce over each serving.

Step 10

Finish with a sprinkle of flaky sea salt, cracked pepper, parsley and non dairy "parmesan."
Notes
It looks like this requires a lot of ingredients, but it actually comes together quickly once you've done the prep.
It might be tough to pull off on a weekday, but this is a great choice for a Sunday afternoon kitchen sesh. The recipe makes a large batch that will provide leftovers later in the week.